Loading...


Ohio



Monday, July 16, 2012




Six-figure grant will help bring historic location alive




Could boost the I-77 corridor of attractions that includes Zoar, and historic sites from the days of the the Ohio & Erie canal


by WKSU's TIM RUDELL


Reporter
Tim Rudell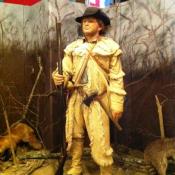 What a member of the 8th Pennsylvania Infantry Regiment would have looked like while building and defending Ft. Laurens in 1778
Courtesy of Rudell
Download (WKSU Only)
In The Region:
The long-disappeared walls and blockhouses of Ohio's only Revolutionary War fort may be visible again in Tuscarawas County. WKSU's Tim Rudell reports on new funding to get the historical reconstruction project going.
Fort Laurens was built by American soldiers in 1788 near where the Great Trail crossed the Tuscarawas River south of what is now Bolivar—where the path of the Ohio & Erie Canal would also eventually run; and where traffic now whizzes by on I-77.
The fort's wooden palisades, 240 feet long to a side, have been gone for two centuries. But Tom Pieper who wrote the published history of the fort is on hand for a weekend gathering of historical re-enactors at the current state memorial park. He and the on-site museum's Tammi Mackey say Fort Laurens is on the way to rising again. A community benefit fund created some years ago from fines levied on a landfill operation north of Bolivar has granted $165,000 to help rebuild Fort Laurens. Mackey says a total reconstruction will cost more than that. She says a price check on just the timber to replace the walls ran $50,000 and that didn't include the costs of treating the logs and installing them.

Pieper says a portion of the grant is already being spent for a comprehensive survey of what may be under the ground around the state memorial park…that includes the use of ground penetrating radar.

There's no estimate yet on how long all the necessary planning and preparation may take, and eventually it all has to be approved by the Ohio Historical Society, which owns the park.
---
---
---
Stories with Recent Comments