Loading...



From WKYC.COM / TV 3
Get the latest school closings and delays


Funding for WKSU is made possible in part through support from the following businesses and organizations.
---
For more information on how your company or organization can support WKSU, download the WKSU Media Kit.

(WKSU Media Kit


)
---

Environment



Monday, July 16, 2012




One dead, investigation continues at well-explosion in Tuscarawas Co.




Cause of explosion is under investigation


by WKSU's M.L. SCHULTZE


Web Editor
M.L. Schultze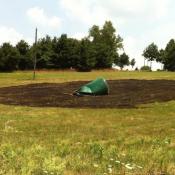 An oil tank burst into flames, shot into the air, landed and burned this morning south of Bolivar. One man was killed.
Courtesy of TIM RUDELL
Download (WKSU Only)
In The Region:
The Tuscarawas County coroner has confirmed one person is dead in a well explosion south of Bolivar. Dr. James Hubert is not yet releasing that person's identity, pending notification of family.

The oil storage site burst into flames shortly after 9:30 this morning. Flames shot some 100 feet in the air.
The explosion is in a residential area along Route 212 off of Interstate 77. According to the New Philadelphia Times Reporter, residents of the area felt the ground shaking before the explosion The fire was under control at about 11 a.m., and hazardous material crews are at the site.
---
---