Loading...


Environment



Monday, July 16, 2012




Fatal explosion shook the earth near Bolivar




Oil-storage-tank explosion kills one and shakes a large area between Canton and New Philadelphia


by WKSU's TIM RUDELL


and

STEVE BROWN, WOSU



Reporter
Tim Rudell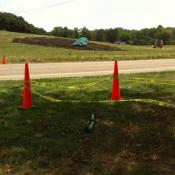 Debris from the tank -- and the tank itself -- shot into the air and landed throughout the rural residential area.
Courtesy of TIM RUDELL
Download (WKSU Only)
In The Region:
An oil-storage tank exploded this morning in northern Tuscarawas County, killing one man and shooting debris as much as a quarter mile away. The Tuscarawas County coroner confirmed the death, but has not yet released the identity. The explosion happened at about 9:30 off Interstate 77, halfway between Canton and New Philadelphia. Nathan Mutschelknaus was working about 70 yards away when the explosion happened.
"I was pressure washing the porch when the ground started to shake. And I looked over because I saw it coming from back behind ourother home. And that's when I saw the well explode and the shock wave hit me in the face, and I almost fell down."
Mutschelknaus says the person killed appeared to be pushed into a nearby fence by the explosion.
The flames and the tank itself shot as much as 100 feet into the air, with most of the tank smashing into the ground hundreds of feet away and burning a large circle in the grass.
---
---
---
Stories with Recent Comments