Loading...


Ohio



Monday, July 16, 2012




Cause of Northeast Ohio oil-well tank explosion is not yet known




Some neighbors say they felt it before they saw or heard the explosion


by WKSU's TIM RUDELL


Reporter
Tim Rudell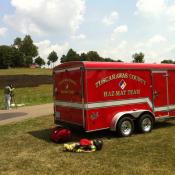 Hazmat crews and other investigators are trying to figure out what caused an oil-storage tank to explode.
Courtesy of TIM RUDELL
Download (WKSU Only)
In The Region:
Investigators are still trying to figure out what caused an oil-well tank explosion this morning that killed one man, and sent debris flying as much as a quarter-mile away in a small community about halfway between Canton and New Philadelphia. The identity of the man who was killed has not been released, but he was apparently working at the site south of Bolivar, off of Interstate 77. The explosion happened at about 9:30 a.m. Tuscarawas County Coroner James Hubert notes that the area is residential.
"The people in the local homes nearby heard the explosion and they felt the shaking. (They were) thinking there may have been an earthquake or something, but it turned out to be an explosion with that tank. It could have been extremely worse; this is a residential area. (Had it)… traveled slightly to the east, it would have been a group of homes next door, and one of them happens to be a group home for residents who are in care."
Neighbors said flames shot at least 50 feet in the air, and the tank itself flew up and landed hundreds of yards away, burning a circle in the grass.
---
---
---
Stories with Recent Comments