Loading...


Arts and Entertainment



Wednesday, August 1, 2012




Video marries the radio star




Minds behind some of Cleveland's most successful stations launching hyperlocal alternative with a technological twist


by WKSU's KABIR BHATIA


Reporter
Kabir Bhatia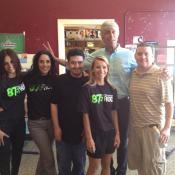 Tom Embreschia (making bunny ears) and some of the staff of Cleveland's new station, 87.7
Courtesy of Carl Carlson
Download (WKSU Only)
In The Region:
3WE and M105 were two of the powerhouse stations owned in the 1970s by a group including Tom Embreschia and Cavs owner Nick Mileti. And the stations are still atop the ratings today, making money for ClearChannel. Now, Embreschia is part of a team trying to start an alternative rock outlet with a distinctly Cleveland vibe. And that means both a talent hunt, and a technological race against time. WKSU's Kabir Bhatia reports.
At the Beachland Ballroom last month, nearly 200 people showed up to audition for a new station that's been playing a loop of "Cleveland Rocks" and Cleveland sports fight songs since June.

This day was a mix of a few out-of-work radio pros, and lots of neophytes who find themselves interesting and hope others will, too.

Hyperlocal content
Postal worker Rich Phillis from Collinwood stood on the ballroom stage in front of station staff and a peanut gallery of applicants and their companions.

"A lot of people don't realize that Danny Greene's house used to be right down here. Waterloo used to be a lot safer when Danny was here. Except for the bombing, of course."

That response to a 35-year-old car-bombing is exactly what 87.7 says it wants: local content, from local people, with local listeners responding by calling in to WLFM.

Not a radio OR a TV station
Those call letters are not technically call letters. That's because this is not technically a radio station. The FM frequency is the same as that of channel 6 on the mostly abandoned analog TV band.

And therein lies the second of 87.7's challenges. When stations switched to HDTV in 2009, the FCC planned to auction off the analog frequencies in 2015 for cell phone or Wi-Fi use, or something along those lines. So in three years, signals left on analog TV frequencies risk being kicked around by 14-year-olds checking "American Idol" results on their iPhones. Assuming "American Idol" is still on the air.

But for now, the station is planning for its future, augmented by the past. It has office space at 5000 Euclid Avenue, the legendary address of WMMS in its heyday, and the current home of the Agora. It also happens to be the building from which Alan Freed uttered his immortal phrase, "rock and roll," and that's the format for Cleveland's 87.7.

Rise of Franken FMs
Though Murray Hill Broadcasting is promoting this as a local effort, other cities have radio stations masquerading on channel 6. They're all dubbed Franken FMs for their alliance of FM transmitting equipment and a TV license. Many are owned by Venture Technologies, a Los Angeles-based company with ties to the Cleveland group.

In California, they mix Spanish or Christian formats. In New York, tuning into 6 on an old analog set brings up dance music accompanying silent movies.

Chicago Sun-Times columnist Robert Feder says the Windy City's 87.7 is doing well with an automated version of the same format we'll get here: alternative rock.

"It's an encouraging sign that they want to do any local hiring at all. But given the challenges of a low power frequency, that I doubt covers the entire market, if it's typical of those at 87.7, it certainly has its work cut out for that.

"It also says something about the state of radio today, for example in Cleveland, the number of people who have applied for a small number of marginal radio jobs on a low-power frequency. It speaks to the state of the industry today, of local radio, and of the lack of entry-level jobs that exists throughout the industry, thanks to everything that's happened to radio in the last 10 or 15 years."

Staying local
He's referring to the wave of radio consolidation that's put most of the country's stations in the hands of a few big companies, which co-owner Tom Embreschia says 87.7 is rebelling against.

"We're going back to the basics of radio, which was owners owned a couple stations. That was their ability: an AM and an FM. Current ownership is now a big conglomerate, it's run out of New York. You know, we're here. I'm right down the street, in Bratenahl."

He also says that localism will be the station's saving legislative grace with the FCC-imposed death date.

"We're filling a need in this community. And we're hoping that as we expand this thing, government will see that it's a valuable asset that's filling a hole in the marketplace, and we'll figure out a way to continue this. If not here, then maybe on another frequency."

A big talent pool
Station management is looking to the reality TV mold of talent development. Michelle Bashian is an English teacher from Chagrin Falls. She loves radio, she loves Cleveland, and she has zero professional on-air experience. She plans to fill in the knowledge gaps with enthusiasm.

"I'm really excited, and I really want to do this! REALLY REALLY REALLY! Like, CRAZY excited. I'M CRAZY EXCITED!"

Whether Bashian ends up on the air remains to be heard, as the station is still searching for talent and prepping for its debut.
---
---
---
Stories with Recent Comments