Loading...


Sports



Monday, August 6, 2012




New wing at Pro Football Hall of Fame




Fourth expansion since Hall opened in 1962


by WKSU's KABIR BHATIA


Reporter
Kabir Bhatia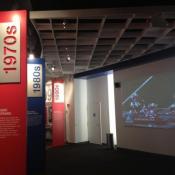 Memorabilia and videos guide visitors through 40+ Superbowls
Courtesy of Carl Carlson
Download (WKSU Only)
In The Region:
The Pro Football Hall of Fame used its busiest weekend to formally unveil its new wing: a glitzy, multimedia-infused homage to the gridiron. WKSU's Kabir Bhatia reports on the $27 million addition and Canton's biggest weekend.
Video-game exhibits are just one part of the new expansion of Canton's Hall of Fame. The entire wing has been upgraded and includes more interactive video portals, plus electronic trivia games and even a place to design – though not actually make -- your own Superbowl ring.

As part of the induction of six new players to the Hall of Fame, parts of the new wing opened for the first time this weekend. The spiral motif of the original Hall, opened in 1963, has been carried over to much of the new work, including a colorful decade-by-decade walking tour of Superbowl history.

Mike Fogle has come from Indianapolis for the past three years, and likes that the Hall is reaching out to younger fans with video games, but has kept the building's design linear.

"It's a little bit different. You still start off at the same place as you did. So, I kind of like that, it helps … especially the younger crowd. They get to know the players that started the NFL. Lot of these kids these days, they can't see back past 2000."

Bronze busts and images of identically dressed players could make them seem somewhat anonymous to fans. Margaret Anderson from Oregon says the new multimedia features help humanize the game.

"It's about the stuff, but it's about the stories of football, it's about the people. And that's what they seem to emphasize and that's what I really appreciated."

The outside of the Hall has been revamped, too, with new turf on a 70-yard replica football field. That was the highlight for three-year-old Ryan Suhanyi from Denver.

"Play football with Daddy, and then go on the field with all the big kids, and throw the football to Daddy and then I threw it back."

A new research center containing more than 20 million pages of documents is also open by appointment.

The newest enshrinees to join the hall are Pittsburgh Steelers Dermontti Dawson and Jack Butler, the Seattle Seahawks' Cortez Kennedy, New Orleans Saints' Willie Roaf, Minnesota Viking Chris Doleman and the New York Jets' Curtis Martin.

This is the latest of four expansions. Called the "Future 50," it's expected to be complete in time for the hall's 50th anniversary next year.
---
---
---
Stories with Recent Comments