Loading...


Government and Politics



Tuesday, August 7, 2012




Cuyahoga County wants to sell 13 excess properties by end of year




Accelerated timetable necessary to keep up with downtown development momentium


by WKSU's KEVIN NIEDERMIER


Reporter
Kevin Niedermier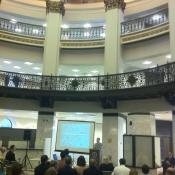 Cuyahoga County Executive Ed FitzGerald talks with potential county building buyers about the ground rules. They gathered in the county owned Ameritrust Bank rotunda. The building is one of 13 up for sale.
Courtesy of Kevin Niedermier
Download (WKSU Only)
In The Region:
Potential buyers gathered in Cleveland today to learn about the ground rules for purchasing excess Cuyahoga County buildings.The county is selling more than a dozen properties ranging from office towers, a bank, vehicle maintenance garages, and a former juvenile justice facility.As WKSU's Kevin Niedermier reports, it's part of the county's efforts to reduce costs and raise revenues, and buyers need to act fast.
Cuyahoga County has 13 of its 66 buildings up for sale. And they will not necessarily go to the highest bidder. Besides a successful track record, potential buyers also need to show how they would use the property to complement Cleveland's downtown development spurt. Proposals must be submitted by September 14th. And the sales will be finalized by the end of the year. County Executive Ed FitzGerald says the accelerated timetable makes the project a challenge. But it's necessary to take advantage of the momentum which includes the casino and new convention center and Medical Mart.

"If you talk to experts in this field, you can drag this process out 4 or 5 years. And I've been continually pushing them, saying this is a particular moment in Cleveland's history right now. I think the taxpayers expect us to do something dynamic with our property portfolio. So I think with everything happening downtown right now there's enough interest that the moment is now to do something on a very aggressive timetable."

One of the properties for sale is the county administration building. So, the county is also looking to buy or lease a new headquarters, and a new building for storage. The storage building will also house the Board of Elections. Potential sellers must also submit offers by September 14th.

---
---
---
Stories with Recent Comments