Loading...


Environment



Friday, August 10, 2012




Public meeting shown how regulators came to their decision




Turnout was light for the information session


by WKSU's TIM RUDELL


Reporter
Tim Rudell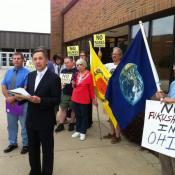 Cleveland area Congressman Dennis Kucinich, flanked by nuclear power opponents, talks with reporters before the Thursday evening meeting in Oak Harbor
Courtesy of Rudell
Download (WKSU Only)
In The Region:
Several dozen nuclear power opponents gathered outside the High School in Oak Harbor Thursday evening The Nuclear Regulatory Commission was about to hold a public meeting to explain why it allowed nearby Davis Besse Nuclear Power Station to go operational again after cracks were found in the plant's concrete "shield building" last fall. That's the giant silo like structure over what's called the containment vessel--where the nuclear reactor is housed. A quarter of an hour before the meeting Cleveland Congressman Dennis Kucinich, himself an outspoken opponent of nuclear power, held a news conference. Over the drone of TV live truck generators he said he does not believe Davis Besse's owner (Akron-based First Energy) or the NRC when they say cracks in the shield building were caused by winds of the blizzard of 1978, or that the cracks pose no danger.
"…I'm not just here to support this community, and the people of Ohio who deserve a safe environment, but I'm here to support the truth…."

But, while audience questions were noted during the three hour meeting, no new rulings or directives arose from the session because it was not a hearing. It was an after-the-fact informational presentation for the NRC to describe how it analyzed the shield building issues; and how it reached the decision to approve a First Energy plan for dealing with the cracks by applying a weather sealant to the concrete and intensifying future inspections of the structure.
---
---
---
Stories with Recent Comments