Loading...


Government and Politics



Saturday, August 11, 2012




Geauga County prosecutor David Joyce to replace LaTourette




Says he'll stay with prosecutor's office till January to oversee Chardon school shooting case


by WKSU's KABIR BHATIA


Reporter
Kabir Bhatia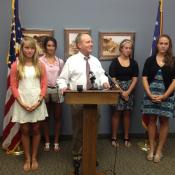 Joyce, flanked by his two daughters and their friends, told reporters he plans to continue telling the truth when he gets to Washington
Courtesy of Carl Carlson
Download (WKSU Only)
In The Region:
Northeast Ohio Republicans unanimously picked Geauga County prosecutor David Joyce to replace nine-term Congressman Steve LaTourette on the November ballot.
Joyce praised LaTourette at a press conference after the nomination Friday.
"He's been a great congressman and a great friend and a true leader. And I understand and appreciate where Steve's coming from. Sometimes, you listen to a speech and wonder, 'I must be out of my mind to want to do this.' But if I don't, who will?"

Joyce says he plans to stay with the prosecutor's office until January due to the Chardon school shooting case.

He had been nominated to be the U.S. attorney for northern Ohio a decade ago, but sources at the time said questions arose during a background check. The prosecutor now chalks the questions up to politics.

The Democratic challenger, and perennial candidate, Dale Blanchard says he has no plans to step aside for someone the party thinks has a better chance of winning.

LaTourette announced last week that he's retiring due to gridlock in Washington.
---
---
---
Stories with Recent Comments