Mitchell Kahan has been director and CEO of the Akron Art Museum since 1986. In 2010, he asked the board of directors to appoint a succession task force—but his actual decision to retire was made just recently.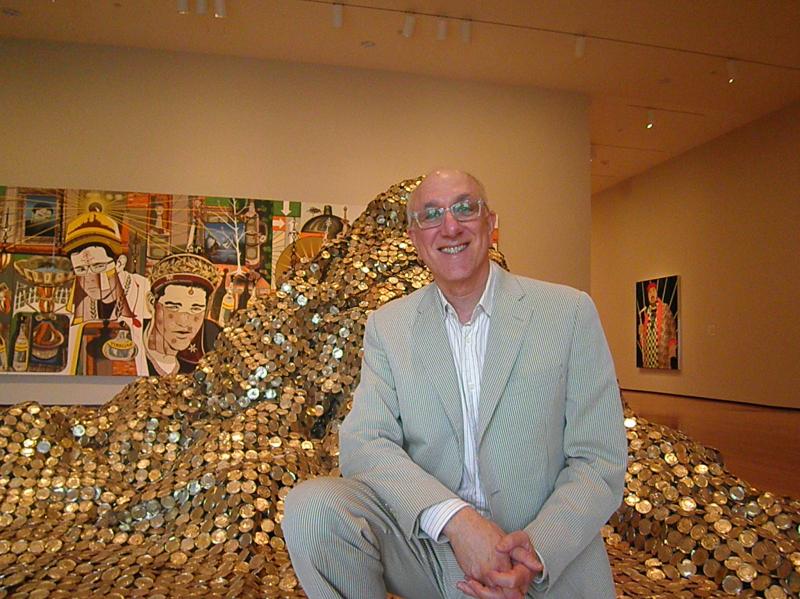 Kahan wanted to leave on a high
note and the new exhibition of the
monumental sculptures of El Anat-
sui is one of the highlights of his
26-year tenure as Director and CEO
of the Akron Art Museum.
Photo by Vivian Goodman.
"Last month, I headed off to North Carolina to take a painting class taught by a longtime friend of mine," Kahan says. "I had a feeling that was going to maybe precipitate a change. It was so incredible, and I came back and I said, 'You know, I need to do more of that.'"
Kahan says it feels like the perfect time to end this chapter of his career.
"It's the 90th anniversary(of the Art Museum), and two things happened this year that are really a high note of the museum, so you want to leave on a high note."
The first was doubling the acquisitions endowment through the sale of a Cindy Sherman photograph. The museum now has a $5 million endowment. And Kahan says once that's invested, it will have $250,000 to spend on art each year.
"There was zero to spend on art when I came here, so that was an important achievement," he says.
The other high note is the El Anatsui exhibition.
Akron Art Museum.
"(This is) one of the most celebrated, important artists in the world," Kahan says. "We were able to bring his work to Akron for the national premiere, to organize this travelling show. … So, it's going to be hard to top this one."
During Kahan's tenure, the museum moved from a small, dated building to a sprawling modern structure in downtown Akron. Kahan worked with art theoretician and practitioner Wolf Prix on the design of the building.
"It was just such a mind-blowing experience to be able to work with such a key figure in the history of architecture, and to bring his first building in the U.S. to our city."
Kahan says the museum is a centerpiece of a changing community — and shares the credit.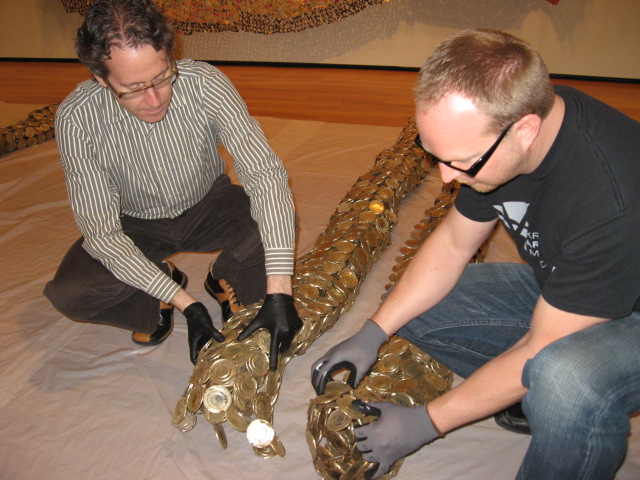 Museum workers assemble an El
Anatsui exhibit.
Photo by Vivian Goodman.
"I think we have Mayor Plusquellic to thank for the fact that people look at Akron differently now. I think the museum fits very much into the mold of this city… When I came here in '86, believe me, it was depressing," Kahan says. "People were shocked I took this job; there was so much vacant land,…I told people it looked like Dresden after World War II. You don't feel that way now at all. It's a different city."
Still, Kahan says the museum can do more. A Knight Foundation study in 2008 looked at what attaches people to their communities, and Kahan was pleased to see the arts are a strong link.
"It validated what I've been trying to explain over the past two decades."
Kahan says this makes clear what Akron should do next.
"Akron's a place that's willing to try things and take risk," he says. "The thing we do need to accomplish here, though, is support the arts in a much greater way. …This is absolutely essential. …We've got to have the public invested in the arts through their dollars to supplement the private support."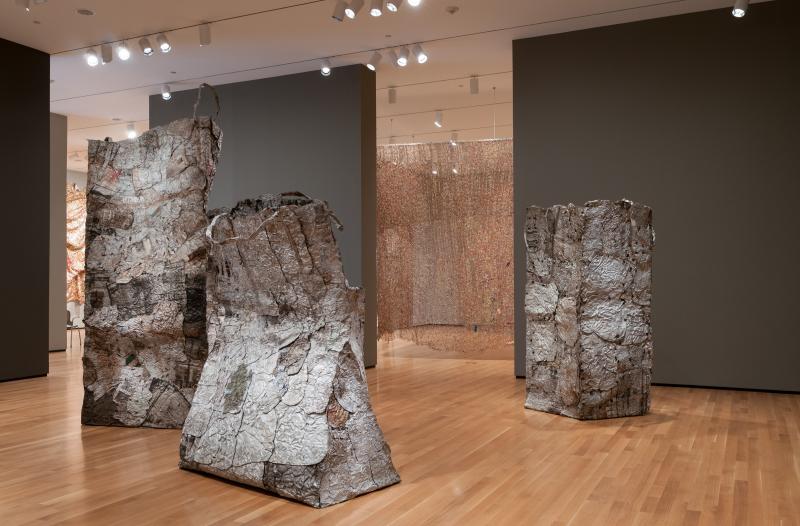 GRAVITY & GRACE Monumental works
by El Anatsui. Installation document-
ation June 2012.
Photo by Vivian Goodman.

Until then, Kahan will be exploring his painting talent—and maybe even displaying it at the museum someday.
"That would be funny," he says with a laugh. "I hope I get that good."