Janis Joplin first played Cleveland in May of 1969 at Public Hall. She returned to the area and performed at Blossom Music Center in August of '69, less than two weeks after Woodstock. That was her last time in Northeast Ohio.
Joplin died of an accidental drug overdose in 1970. The closest thing to a return engagement has been going on this month at the Cleveland Playhouse's Allen Theatre. In this case, it was Laura Joplin again with the idea. She and brother Michael approached writer-director Randy Johnson about a new tribute.
"I was listening to "Piece of my Heart" and "Summertime" when most kids were listening to Mary Poppins. So It was a thrill to meet them; I went away and that night they sent me some material on Janis that no one had ever read or seen before. It hit me about four days later what the show should be : a celebration of her life and legacy."
The evolution of letters from Janis
The earlier version, "Love, Janis", featured an actress reading Joplin's letters and another singing. In contrast, "One Night" has the singer talking to the audience in between two dozen songs as if in concert. Johnson says he wrote about half the words and the other half came from Janis herself. He says the family told him not to read biographies but read to Janis's own material…
"I would actually send them every page I would write for them to vet so at no point I could never be questioned by the press that I wasn't telling the truth. And one day Laura Joplin finally said to me 'My sister is your head. You don't have to send me this material anymore."


Blues and soul

"One Night with Janis Joplin" debuted in Portland, Oregon, last year. But since then, Johnson has trimmed a half hour of what he calls "excess material" and changed the ending.
Playing the lead in Cleveland is 33-year-old Mary Bridget Davies, the Cleveland native who also portrayed her at the Hanna Theater with "Love, Janis" in 2005. Davies like the music choice even more with this play.
"It's way more up my alley of what I loved about her and her songs… As her career progressed she was turning into a soul singer. Blues, soul singer, and that's what I love and those songs just lend to it. There's a lot more depth there so you can really pull the audience in with you and experience it yourself because if I'm not buying it no one is going to buy it out there."
The Fairview Park native Davies says she first heard Joplin when she was about 5 years old.
"I remember it was 'Piece of my Heart' and I was jumping up and down on the couch. I screamed along with it. I was so excited I was allowed to be that loud in the house."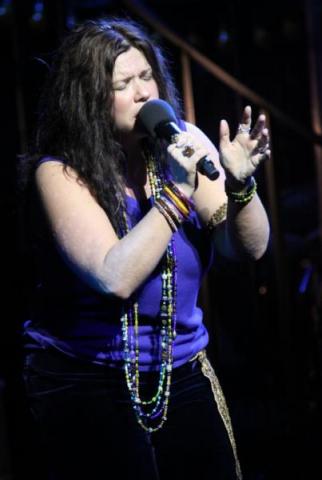 Davies has more than stage experience with Joplin. She just finished touring Europe singing with Joplin's first band, Big Brother and the Holding Company. Johnson and Davies have seen Joplin's own possessions at the Rock & Roll Hall of Fame and Museum.
"It was actually quite moving to see the glasses and the beads and her hand-written lyrics for Kosmic Blues.' It was quite and experience."
A painted Porsche
Davies took photos of Joplin's Porsche with surviving members of Big Brother.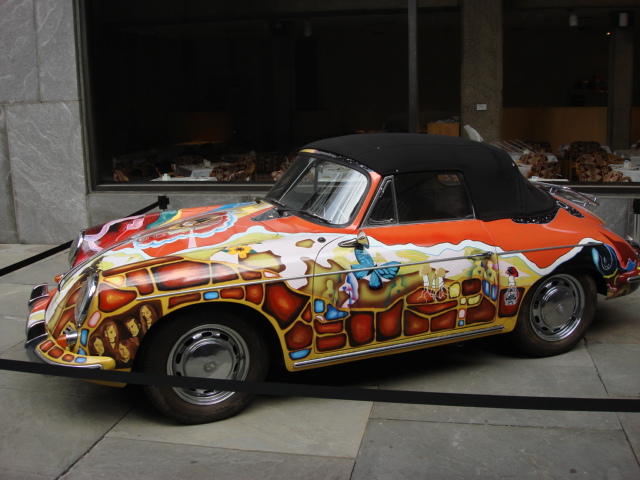 Coincidentally, just before that psychedelic painted Porsche got to the Rock Hall, it was used as a stage prop in the 1994 debut of "Love, Janis" in Denver.
One touching letter by Joplin at the Rock Hall was to her mother. The rock star wrote about sewing her own stage clothes. Johnson says he used her own drawings to make costumes for the play.

Bessie, Odetta, Nina and Aretha
In between songs "Janis" address the audience about her influences: Bessie Smith, Etta James, Odetta, Nina Simone, Aretha Franklin. Sabrina Elayne Carten has to pull off the remarkable task of portraying all of those women in the character of "the Blues Singer." Johnson says he wanted the audience to hear those influential songs.
"Janis would take one of Bessie's or Nina's or Etta's songs and turn them into her own. So you can hear the original version and hear what Janis turned it into." Johnson also uses a song that Jerry Ragovoy wrote for Joplin that she was planning to record but never did. "I'm Gonna Rock My Way To Heaven" closes the show.
"One Night With Janis Joplin" has been attracting theater managers from around the country as the show is expected to go on the road. Its final performance at the Allen Theater is Sunday and then it plays in Washington, D.C., next month.