Loading...


Economy and Business



Wednesday, August 22, 2012




Lyndhurst wants Acacia Country Club for commercial development and tax revenue




The city is competing against a bid from a land preservation group that wants to keep Acacia green


by WKSU's KEVIN NIEDERMIER


Reporter
Kevin Niedermier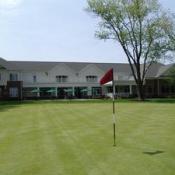 The 18th hole at Acacia Country Club in Lyndhurst. Depending on who buys the golf course, this hole could remain green, or it could become a parking lot.
Courtesy of Acacia Country Club
Download (WKSU Only)
In The Region:
The City of Lyndhurst is wants to buy the Acacia Country Club and use it for commercial development, at the same time a conservation group is trying to keep it as a green space. The city tendered a $16 million offer this week. That bid is competing with a $14.75 million bid from the Conservation Fund. As WKSU's Kevin Niedermier reports, the club's shareholders must soon chose between preserving green space or expanding the tax base.
Lyndhurst Mayor Joseph Cicero says the city needs the property for commercial development to bolster its dwindling revenues. He envisions preserving some green-space. But he wants to use the rest of the 160 acre site at the Richmond and Cedar roads intersection for retail, housing and business development. Cicero says Acacia is the city's last available undeveloped piece of land. The Virginia-based "Conservation Fund" wants to keep the property undeveloped. The non-profit organization uses private donations to buy and preserve land nationwide. Acacia's shareholders are scheduled to vote on the organizations' nearly $15 million offer September sixth. But by law Lyndhurst has 60 days to study the property's suitability for development, putting the club's final decision on hold. Acacia officials did not return a call for comment on the city's bid. In June, the shareholders rejected a retail developer's $12 million offer. And the club's board recently threw out a different developers $16.5 bid, and instead sent the Conservation Fund offer to the shareholders. Acacia is for sale because it's facing the same problems as many other private clubs, rising costs and declining memberships.
---
---
---
Stories with Recent Comments