Loading...


Economy and Business



Thursday, August 23, 2012




Innerbelt bridge back on for 2016 completion




$317 million may not come from taxpayers – at first


by WKSU's KABIR BHATIA


Reporter
Kabir Bhatia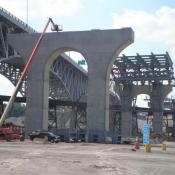 After the eastbound bridge is completed, the existing I-90 bridge, built in 1959, will come down, and construction on a westbound bridge will begin
Courtesy of Carl Carlson
Download (WKSU Only)
In The Region:
Both of the I-90 bridges over the Cuyahoga River are once again set to be finished in about three years. And the $317 million for the project may not come from taxpayers – at first. WKSU's Kabir Bhatia reports that Gov. John Kasich was in Cleveland Thursday, touting a big change in the way the state does its road-and-bridge business.
Ohio is following the lead of about 30 other states and entering into a public-private partnership to finance construction of the second Innerbelt bridge.

Originally, work on the second bridge was to begin next year. Then the state said it didn't have enough money, and delayed the project by as much as a decade.

Now it's back on schedule. Gov. Kasich says that's because the state no longer needs to have its money up front to pay for demolition of the old bridge and construction of a new one.
"What basically is going to happen, is the money for the construction of this bridge will be paid for by the private sector. They will then be reimbursed, with appropriate interest, and we will [have] the money to pay them in 2016 for the work that they're doing in 2014."

State Sen. Tom Patton, a Republican from Strongsville, says this is a model for other state projects.

"Right now the only we fund highways, roads, bridges, is with the gas tax. And it doesn't take a rocket scientist to figure out, at $3.89 a gallon, people aren't spending as much money at the gas station. Cars are more economical, which means [you] don't have to buy as much gas at the gas station. That's the good news. The bad news is: the little bit of gas tax that the state gets shrinks all the more."

The new project was announced at a press conference near the bridge. Gov. Kasich also used the conference to tout the $40 million he says the state could save by consolidating Ohio Department of Transportation parts warehouses.
---
---
---
Stories with Recent Comments