Loading...


Courts and Crime



Thursday, August 30, 2012




Jurors hear about seamier side of Amish beard cutting in court




Alleged sexual conduct raised in hate crime trial


by WKSU's KEVIN NIEDERMIER


Reporter
Kevin Niedermier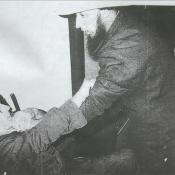 This photo of defendant John Mullet cutting the beard of Amish bishop Raymond Hershberger was presented in court this week. It was taken by another defendant during the attack last year.
Courtesy of U.S. Justice Department
Download (WKSU Only)
In The Region:
In Cleveland federal court today the prosecution showed a seamier side of the Amish beard cutting trial.
The sister of Amish bishop Sam Mullet Sr. told jurors her brother had behaved "inappropriately" with women in the strict, breakaway community he leads. Defense attorneys had unsuccessfully argued it would prejudice the jury to include testimony accusing Mullet of having sexual relations with married women in the group as a form of counseling.Mullett and 15 of his followers are accused of committing hate crimes last year when they forcibly cut the beards and hair of other Amish. Prosecutors say the attacks were motivated by religious differences, making them hate crimes. The defense says the cuttings resulted from family fights, and that the government has no right to get involved in Amish disciplinary matters. In other testimony, one of defendants, Nancy Miller, told the jury about the cutting of her father's beard and her mother's hair. She said her parents weren't living a strict enough lifestyle, and the cuttings were necessary to help them get into heaven. Some of the defendants could be sentenced to more than 20 years in prison if convicted.
---
---
---
Stories with Recent Comments