Loading...


Government and Politics




Friday, August 31, 2012




Biden Cruzes to Lordstown




VP hits back at Paul Ryan's GM plant closure speech


by WKSU's KABIR BHATIA
This story is part of a special series.



Reporter
Kabir Bhatia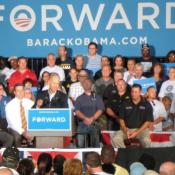 Vice-President Joe Biden took on GOP VP challenger Paul Ryan in front of a UAW-heavy crowd in Lordstown
Courtesy of Carl Carlson
Download (WKSU Only)
In The Region:
Vice-President Joe Biden visited Lordstown today (Friday), stumping in front of an appreciative audience of autoworkers near the GM assembly plant. WKSU's Kabir Bhatia reports.
UAW Local 1714 hosted Biden, who criticized Mitt Romney for opposing a federal bailout of General Motors and Chrysler.

And the vice-president singled out his Republican challenger, Paul Ryan, for suggesting that President Obama failed to help an idled auto plant in Ryan's Wisconsin hometown.

"Folks, let's look at the facts. The one thing the Congressman is right about, and I know from my own community [with] the two plants closed in Delaware, it was devastating for the people in his community. But what he didn't tell you is the plant in Janesville actually closed when President Bush was still in office. He didn't tell you that!"

The crowd was still giddy from last week's news that the next generation Chevy Cruze will be built in Lordstown. The current model is the fourth-best-selling compact in America, and it brought thousands of jobs to Northeast Ohio in 2009.

Joe Higinbotham just retired from the plant, where his son still works.

"We just got a $200 million dollar award for a new product that very possibly will see HIM into retirement. I've got a retirement and a pension thanks to Barack Obama. No, I don't see how we could support anybody else."

Biden also took the opportunity to say President Obama's tax policy would be better for the middle class than Mitt Romney's.

And he questioned whether federal bailout funds should have gone to Bain Capital in the 1990s.
---
---
---