Loading...


Social Issues



Monday, September 10, 2012




St. Peter's Church re-opens and what it means for the future




St. Peter's in downtown Cleveland celebrates its first Mass in two years, but much of its congregation is still gathering in converted office space 50 blocks to the east


by WKSU's KABIR BHATIA


Reporter
Kabir Bhatia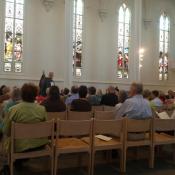 The Rev. Robert Kropac welcomes parishioners back to St. Peter, which was closed in April 2010 along with about 50 other churches in the Cleveland Catholic diocese. The Vatican ordered 11 re-opened earlier this year
Courtesy of Carl Carlson
Download (WKSU Only)
In The Region:
St. Peter's Church in downtown Cleveland is again open for worship. It's the 10th of 11 parishes that successfully appealed their bishop's order to close. And it's the only one that has a doppelganger just down the road. WKSU's Kabir Bhatia reports.
When St. Peter's Catholic Church closed two-and-a-half years ago, many thought the 153-year-old Gothic revival building would decay while the Catholic Diocese of Cleveland decided what to do it.

Instead, the church appealed, and the Vatican made a surprise decision to re-activate the parish earlier this year.

But by then, a large part of the congregation had moved to a remodeled office building some 50 blocks east to form – against the wishes of the diocese – the Community of St. Peters.

And Sunday, both were holding services.

For three weeks at the original St. Peter's, a team of eight parishioners applied considerable elbow grease to the stained glass windows and stone floor. And for Sunday's service, gleaming Corinthian pillars greeted returning parishioners. About 150 people sat on chairs among the still-sparse furnishings as Mass was celebrated from a stone altar that hadn't been used since 2010.

Right man for two jobs
Many attending the coming-home service came from other Catholic parishes to show support to St. Peter's and its new pastor, the Rev. Robert Kropac.

Andrea McGovern attends St. Gabriel's, Kropac's former parish.

"We think he's the guy to make this work. I think he's got the intellectual capability and the spirituality to appeal to a community that is related to a college community, which is how I see this."

Although he's in his late 50s, Father Kropac seems 10 years younger, thanks to an exuberant personality. He has spiky salt-and-pepper hair and a seemingly perpetual smile.

"Things won't be perfect the first day. Are any of here looking for perfection? Good."

He'll need that youthful spirit, and a sense of humor, for the foreseeable future as he sprints between St. Wendelin and St. Peter's every Sunday.

Bringing in parishioners
Along with getting the building ready for parishioners, he says his biggest challenge will be getting parishioners into the building.

"I realize half of these people aren't from St. Peter. They're people who came to support [and] bring some closure to the whole process of re-opening and all that. So it's wonderful. It's great to have people here and I hope they come back."

Before the church closed, six generations of Nancy McGrath's family attended St. Peter's. She helped organize protest vigils during the closure years, and is now thrilled to be back. She expected more people at the opening Mass but knows it's a challenge.

"Father Kropac is going to be working with Cleveland State University, so we hope the students will tie-in with us. And then there is the Cosgrove Center, which is right next door. They used to feed the homeless there and I think they still do. And so we'll be involved with any of the projects they're working on."

But not all have returned.

Meanwhile, down the street
Many of her fellow parishioners – and her former priest -- were gathering Sunday morning some 50 blocks away.

The Community of St. Peter has been celebrating Mass each Sunday for two years with the Rev. Robert Marrone, who headed St. Peter's downtown for 28 years until its closure. Their worship space is at E. 71st and Euclid.

It has no steeple, no vaulted ceilings. No rectory and no stained-glass windows. In fact, no windows at all.

But close to 300 people sat in neatly organized chairs, celebrating a liturgy that parallels that at their old church – but that is being celebrated outside the authority and approval of Bishop Richard Lennon.

Frank Titus is on the board of trustees of the break-away church. He says parishioners might go back and forth between the two St. Peter's from time to time, but he does not know of anyone who plans to head back to E. 17th Street permanently.

"I don't think any of us is looking through the rear-view mirror anymore. Father Marrone has made the point a number of times that it's really not about a building. A church is the body of people involved.


No contest
"It's not a question of any kind of competition," says Titus. "From the Community of St. Peter's standpoint, we're going to continue to do the work that we do. Move forward in terms of social justice ministries and the presence that we want to have in the City of Cleveland. It's a beautiful place that Father Kropac has to work with and we certainly wish him the best."

No ill will
When he was appointed by the diocese in August to reopen the old St. Peter's, Father Kropac said it might be awkward having both churches in Cleveland. But neither he nor Marrone has expressed ill will or apprehension. In public, neither have parishioners. Serving coffee and donuts after the first service at the re-opened St. Peter's, Nancy McGrath goes a step further.

"I feel very strongly that we're all friends. There is a bond of friendship between the community and the parish that cannot be broken. I'm just hoping and praying that somewhere down the line we'll all be together again."

Perhaps in a spirit of cooperation after the Community of St. Peter's service, Father Marrone declined to be interviewed, saying the Sun
---
---
---
Stories with Recent Comments