Loading...


Education



Wednesday, September 12, 2012




Kent State putting $25 million toward campus energy conservation




State-mandated plan to cut usage 20 percent by 2014


by WKSU's KABIR BHATIA


Reporter
Kabir Bhatia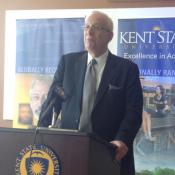 President Lester Lefton spoke at Kent's new Twinsburg campus
Courtesy of Carl Carlson
Download (WKSU Only)
In The Region:
Kent State University is going greener. The Board of Trustees Wednesday approved the first phase of a $50 million, state-mandated energy conservation project. WKSU's Kabir Bhatia reports.
Ohio law requires state colleges and universities to reduce energy consumption 20 percent by 2014. And the KSU Board approved $25 million in bonds for part one of the project. Kent State President Lester Lefton.

"Making sure that roofs aren't leaking, single pane windows are being replaced. HVAC systems that are wildly inefficient are being replaced with new systems. A very good example is Williams Hall, which has a whole side of the building that is all glass. It is amazingly energy inefficient. That will all be replaced with energy efficient glass, with HVAC systems that use less energy. It's going to save us money for generations to come."

Lefton also told the Board that work is proceeding on the school's downtown Kent hotel and conference center. And the Board officially approved $170 million in bonds for expanded science, art and engineering facilities, plus a new architecture building. Payments on the 30-year bonds will come out of the university's operating budget.
---
---
---
Stories with Recent Comments