Loading...


Government and Politics



Thursday, September 13, 2012




Where things stand in Ohio




Quinnipiac University pollsters survey the state regularly


by WKSU's TIM RUDELL


and

M.L. SCHULTZE



Reporter
Tim Rudell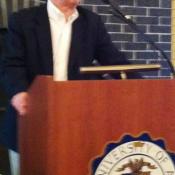 Peter Brown is Assistant Director of the Polling Institute at Quinnipiac University
Courtesy of Rudell
Download (WKSU Only)
In The Region:
Voter surveys by Quinnipiac University's Polling Institute are among the most watched in the country. And the institute's deputy director was in Akron Thursdayto talk about what the numbers are showing as the November election draws near. WKSU's Tim Rudell reports.
Run out the clock

Peter Brown is a long-time Washington reporter and editor who now helps run Quinnipiac University's non-profit polling arm. The Connecticut school doesn't even have a football team, but still, Brown fell back on a football analogy in describing to the Akron Press Club the play President Obama is making in the swing state of Ohio. "You're ahead, you're in the fourth quarter…and so what [President] Obama wants to do is run the clock out. Just keep it going. Keep your people happy."

Senate race

The Quinnipac Polls show Mr. Obama with a small but steady lead in Ohio over challenger Mitt Romney. Sitting on a more comfortable lead in those polls is incumbent U.S. Sen. Sherrod Brown, who's facing well-funded challenger, Josh Mandel. "If I were a betting man, Sherrod Brown's is in better shape in Ohio I would suggest to you than many of his colleagues in the Senate. He's in pretty good shape. And if the president should carry Ohio, it would make it even easier."

Negative ads

The superPAC spending on TV ads in both the senatorial and presidential races in Ohio has had a harshly negative edge. And Peter Brown was asked if his polls show voters are tired of those ads. "Of course they are sick of it. But guess what? They respond to them. Voters do move their votes based on negative ads. They say they don't listen to them, they say they don't like 'em. But don't believe 'em. They listen, and they act."

Polls

Brown would not comment on the reliability of polls other than Quinnipiac's, but advised the crowd on how to measure the reliability of polls. That includes whether pollsters spent the extra money it takes to include voters with cell phones and whether they provide the full text of their questions when they release the poll results.
---
---
---
Stories with Recent Comments