Tough refugee life
The Zaatari camp was set up this summer to house 500 people fleeing what many characterize as a civil war in Syria. The camp's headcount is now up to roughly 30,000, some two-thirds of them children.
Will Harper says the conditions are hot and dusty, "It's a really challenging environment for anybody."

Harper was planning to be a high school social studies teacher. Instead, the Kent State grad is the child protection advisor for the Save the Children refugee camp in the middle of a desert.
The stories from the kids really affect the social workers and staff of the camp. Harper says "it's really some heart-wrenching stuff." In his time at a few refugee camps, these stories stick out.
A lot of work is still needed
Harper has worked for Save the Children for two years. He says the outbreak of violence last week at and near U.S. embassies throughout the Middle East is not a distraction, but rather an affirmation that the situation in Syria needs to be resolved.
With all that has gone on in the Middleast recently, it is clear a lot still needs to be done. Harper has talked with many of the refugees and says the main theme is that "people want to return to Syria and they want the violence to stop." Save the Children is there to help them until that happens.
The flood of refugees has not slowed
"As soon as we are able to catch up on our work, more people are coming across and there's no real sign that that's going to stop." Harper says that people can help and having discussions about the conflicts and the refugee situations are the key.
But he says the work has to go beyond talk. The camp recently opened new schools, which will be sponsored by UNICEF.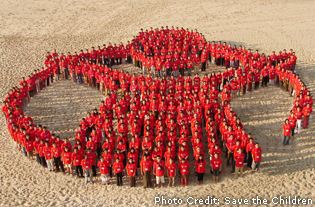 The camp has child friendly space set up providing kids with a safe place to play. The trained staff does activities that allow the kids to play creative and express themselves. With what these kids have been through, Harper says, "helping them get into a routine really is a key to getting them to readjust quickly to their new environment."
Syrian refugees are also in camps in Turkey and Lebanon.