Loading...





Wednesday, September 19, 2012




The "other guy" on Browns '64 championship team gets moment to shine




This weekend, the Browns will induct the lesser-known Ernie Green into its shrine of legends. Raised in the south during segregation, Green got a bus ticket that eventually led to Cleveland.


by WKSU's AMANDA RABINOWITZ


Morning Edition Host
Amanda Rabinowitz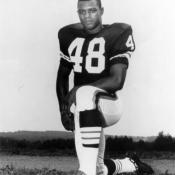 In a deeply divided south, Georgia-native Ernie Green got a bus ticket to college in Louisville that eventually led to a championship with the Browns in 1964.
Courtesy of Plain Dealer
Download (WKSU Only)
This weekend, while the Cleveland Browns try to win their first game of the season with a batch of rookies, the team will honor one of the greats from the 1964 championship team. But, you've probably never heard of him. Running back Ernie Green will be inducted as a "Browns Legend." He was always known as "the other guy" behind Hall of Famer running backs Jim Brown and Leroy Kelly.

WKSU commentator Terry Pluto talks to Amanda Rabinowitz about Ernie Green's career that has been a series of obstacles from a color barrier to breast cancer.
A lesser-known legend
Ernie Green's name doesn't come up much when Cleveland fans reminisce about the Browns' 1964 championship team.

That's because Hall of Famers Jim Brown, Leroy Kelly and Paul Warfield were the stars of the team. Ernie Green was always known as "the other" running back behind Brown and Kelly. Yet, his lanky body and speed made him a valuable asset in scoring touchdowns because opponents never suspected he would get the ball when the team was close to the goal line.

Aside from Green's acheivements on that historic team, his journey to the Browns is perhaps more extraordinary.

A divided south and a life-changing bus ticket
He grew up in Columbus, Georgia in the 1940's. He got an opportunity to play football at Louisville, which just broke the color barrier.

"He expected kind of the first class treatment," Pluto said. "They sent him a bus ticket; gets to Lousiville, gets off the bus - nobody there. So, he grabs a phone book to see if the coaches name is in there...It became kind of a metaphor for his whole career. I mean, here you are, you're bucking the odds all the way along. You get there, there's nobody there waiting for you, you're never really treated real special."

Green was a 14th round pick by the Green Bay Packers and traded to the Browns for "a sack of footballs," Pluto said tongue-in-check.

He started in the backfield first next to Jim Brown and then Leroy Kelly from 1962-1968.

Little changed back home after Browns championship
Pluto said life wasn't easy for Green, even after he won the 1964 championship.

"He's driving back home, back to Columbus, Georgia. He stops somewhere in the deep shouth, couldn't remember the state. Walks into this cafe - two days off the championship game - nobody will serve him. And he said he suddenly realized that he may be up in Cleveland on a championship team and the game was on tv, or whatever, but down here, he goes, 'I'm just another black person who didn't count.'"

"What I appreciated from Ernie is obviously, there's all these hurts. And it never really made him bitter," Pluto said.

Business owner and breast cancer survivor
Green now owns Ernie Green Industries in Dayton, which sells parts for the automotive industry. In 2005, he was diagnosed with breast cancer, and has become an advocate for early detection and treatment. "Think of a former NFL guy, talking about that, is not easy for him, but he went and made several spots and kind of became a spokesman."

Terry Pluto is on the committee that nominates and votes players to the Browns "Legends" club. Green will be honored during halftime of the Browns vs. Bills game on Sunday.
---
---
---