Loading...


Economy and Business



Friday, September 21, 2012




Jobless rate remains unchanged




7.2 percent in July and August




by WKSU's STATEHOUSE CORRESPONDENT BILL COHEN



Reporter
Bill Cohen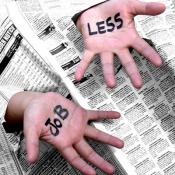 The unemployment rate has been stagnant for three months, but is still lower than where it was at the height of the recession.
Download (WKSU Only)
In The Region:
Ohio now has an updated unemployment rate. The 7.2 percent rate for August is unchanged from the rate in July. Still, Ben Johnson of the Ohio Department of Job and Family Services is talking positively about it. He says Ohio's economy is slowly improving.
"The unemployment rate declined for eleven straight months. It's now been flat for three, but it is still significantly lower than where it was at the height of the recession; and since January of last year the state has added about 123,000 jobs. About half of those have come since January of this year, about 68,000 just since January of this year."

Still, Johnson acknowledges that one reason Ohio's official jobless rate remained steady in August is. Some jobless Ohioans stopped looking for work, so they were no longer classified as unemployed. Johnson agrees; had they kept looking for a job, Ohio's latest official unemployment rate would have risen.

---
---
---
Stories with Recent Comments