Loading...


Sports



Friday, September 21, 2012




Rolling with Akron's gravity




First Rubber City Gravity Games brings longboarding, luge to Derby Downs


by WKSU's KABIR BHATIA


Reporter
Kabir Bhatia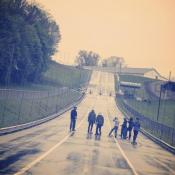 Derby Downs helped train the longboarders, who compete this weekend on the twisty turny access road nearby
Courtesy of Ohio Gravity Series
Download (WKSU Only)
In The Region:
The Rubber City Gravity Games are happening today at Derby Downs. It's the first time that competitive street luging and long skateboarding are coming to Akron, and about a hundred athletes from around the world are expected to converge on the home of the Soap Box Derby. WKSU's Kabir Bhatia reports.
That supersonic sound is actually a swarm of rain-slicked skateboarders at Derby Downs last spring. They came out for the first of several workshops to learn more about longboarding and luging, which are similar except for the body position.

"Street luge you lay down. Stand-up skateboard you stand, you get in a little bit of a lower position where you're kind of tucked forward for aerodynamics. So it's a little different from the normal street skating that you might picture."

That's 2005 professional street luge champion David Dean, from Columbus. He demoed the sport during last year's Soap Box Derby, and audiences were impressed enough that the race administrators formed an alliance, The International Downhill Racing Association, to sanction competitions at Derby Downs and seven other tracks in North America.

Bringing people to the hill
Bob Cohen is Chairman of the association, and says it's one more way to bring people to Akron.

"The Derby Hill, up until recently, was only used really once or twice a year. Of course, the Derby's using it more often now for community activities. But it still, in my opinion, was an under-utilized asset. And Rick Marrolla, who's director of city services, leaned over to me and said, 'The mayor just wants us to use the hill to run more things down it.' So I took his recommendation to heart, and that's how we came up with this gravity series games."

Whizzing down the track
Area skateboarders and snowboarders, like fifth-grader Robert Biddle from Cuyahoga Falls, are happy to whiz down the imposing hill.

"It's fast, it's fun and really, you don't have to peddle… it's not really using that much energy. So you can just go and have fun."

Trucking
Biddle has never tried a luge or longboard, which look like longer, beefed-up variations on a skateboard. He's at least one step ahead of skier and bicyclist Larry Bell from Peninsula. The truck driver is pushing 70.

"Everybody should try things. It makes your life a lot more interesting. I've scuba-dived, I've sky dived, I play tennis right now. It's living your life. There's a lot of people that I meet that are 68-years-old, and they do nothing. And I can't do that. I want to feel things anew. And that's why I do it. I like speed. And I'm nuts."

Winners from this weekend's competition in Akron will be nationally ranked through the International Gravity Sports Association, which is co-sponsoring the event.

Big turnout expected
Derby Downs is providing administrative support for the race, and the events will actually take place on the nearby, newly-paved access road, because it offers more twists and turns than the actual hill. About 5,000 people are expected to come out and see gravity defied in Akron.

A live stream of the events is available here.
---
---
---
Stories with Recent Comments