Loading...


Environment



Monday, September 24, 2012




The future of public markets and cities




International Public Markets Conference comes to northeast Ohio


by WKSU's KABIR BHATIA


Reporter
Kabir Bhatia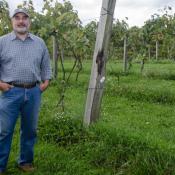 Mike Lytz started Sarah's Vineyard a decade ago on land that hadn't been planted in 15 years
Courtesy of Carl Carlson
Download (WKSU Only)
In The Region:
Northeast Ohio's farm-to-table scene was on display this weekend as Cleveland hosted the eighth annual International Public Markets Conference. Participants from around the world discussed what farmers markets and farms mean to a city, and how they can fit in and grow. WKSU's Kabir Bhatia reports.
On a sunny fall Saturday, two dozen public market aficionados stopped for lunch at Sarah's Vineyard, across from Blossom Music Center north of Akron.

They weren't there just for the food and drink, but because the owners grow their grapes on public land, within the Cuyahoga Valley National Park.

That's the point that local host Darwin Kelsey, executive director of the Cuyahoga Valley Countryside Conservancy, wanted to drive home. Northeast Ohio is slowly adapting to the challenge of providing better food than what he calls the industrial food system.

"Food doesn't taste so good, it's not as nutritious. It's produced in ways that are polluting of the environment. Tremendous use of water; tremendous use of energy. And we're gonna have to move to a different system. Thirty, forty years from now we're gonna have to be growing 30, 40 percent of what we eat in the metro regions where it's consumed. That doesn't mean, if you're here, the metro region in California, or Chile or China, it's the metro region around Cleveland. We have to hand-hold our culture through that change."

Rescale, reorganize and localize
Kelsey says farmers markets are the gateway to that need to rescale, reorganize and localize the food chain. And Ohio is lucky to have both the people and the land to make that happen.

That's different from Winnipeg in South Central Canada, where Andy Cameron runs the Forks Market. He says the area is rich in oats and grains, but fruits and vegetables come by rail. Despite that, the desire for fresh food keeps his market thriving.

"Within just a couple years of opening, we are the No. 1 tourist attraction in our province. Our market probably does 4 and half, 5 million people a year. Without us, there would be 3,000 fewer jobs, and our No. 1 attraction would be the zoo."

By the numbers
Those are the numbers city planners like Cassie Milestone want to see. She came to the conference from Boulder, Colorado, where 150 farmers sell everything from yellow watermelon to white eggplant at the farmer's market two days a week. But it's part of a city-owned block that may be slated for redevelopment.

"There is no one-size-fits-all solution and I love the idea of putting farms and agricultural businesses on public land. So I'm going to take some of this information back and see what's been considered in our neck of the woods and see if we can make that happen."

Keep it moving
If a permanent market doesn't come to pass, Milestone may want to consider an idea from Gwen Forte, of the Cleveland-based local food marketing group, Growhio.

"There's got to be a stepping stone of maybe a mobile market that sells a lot of vendor's products to a small-access area and grows organically that way before you bring it into a full-fledged market."

The human touch
Forte says the human aspect of public markets and community farms also can help them grow.

"You have the ability to talk to the farmer and inherent in that conversation, I think, is the full range of benefits of that food and how it's grown to be better for you and to taste better."

That's a big part of the attraction of Sarah's Vineyard, says owner Mike Lytz. He makes eight varieties of wine from the grapes he grows on 35 acres leased from Cuyahoga Valley National Park. It's part of the conservancy program to preserve the historical character of the valley, since it was historically a farming area. And a big part of Lytz's success is from human interaction.

"They enjoy visiting a local winery and knowing the wine was made there and some of the grapes were grown there. And you can actually see the people you're doing business with."

Lytz is a retired school teacher who dabbled in winemaking. He started the vineyard a decade ago on land that hadn't been planted in 15 years. Today, the vineyard is producing some 12,000 gallons of Chardonnay, Riesling and other wines that do well in Northeast Ohio's climate.
---
---
---
Stories with Recent Comments