Loading...


Government and Politics




Wednesday, September 26, 2012




Romney meets with manufacturers in Bedford Hts.




Accuses President Obama of being soft on China's unfair trade practices


by WKSU's KEVIN NIEDERMIER
This story is part of a special series.



Reporter
Kevin Niedermier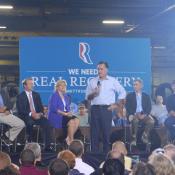 Sen. Rob Portman, Mike Rowe and a panel of local manufacturers appeared with Romney in Bedford
Courtesy of Grant Engle
Download (WKSU Only)
In The Region:
A suburban Cleveland manufacturing plant was one of the three stops GOP presidential candidate Mitt Romney made today as he and his running mate Paul Ryan completed a three-day swing through the state.

At American Steel and Wire in Bedford Heights, Romney listened to seven Ohio manufacturers talk about the challenges they face. All blamed President Obama for what they feel is a difficult business climate. Uncertainty over business regulations and high taxes was a common theme. Some said unfair trade practices by China have hurt.

Gov. Romney accused Mr. Obama of being soft on China, and says he will challenge China for artificially keeping its currency low.
Obama campaign officials say that Romney criticized Mr. Obama when he filed unfair trade complaints against China on tire exports, calling it protectionism that will hurt U.S. manufacturers.
From Cleveland, Romney headed to Toledo. Mr. Obama was heading the opposite direction, from Bowling Green to Kent State, where he's giving a speech at 5:30 tonight.
---
---
---