Mitt Romney sat on a stage on the factory floor at American Steel and Wire flanked by the owners of seven Ohio manufacturing companies both large and small. He asked each of them to talk about the business challenges they've faced during the last four years. They cited uncertainty because of regulation changes, unfair trade practices in China, high taxes and health care costs.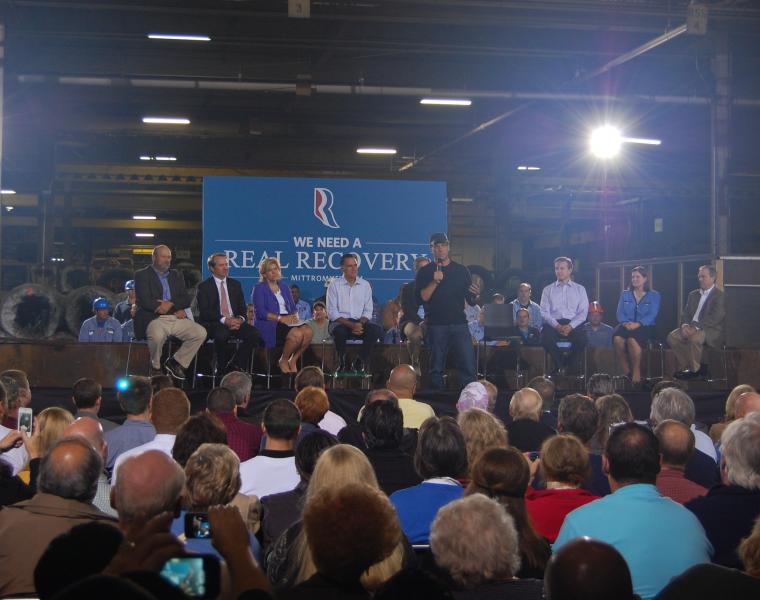 Morgan McIntosh is president of A-M-F-M Incorporated in Willoughby near Cleveland. The company employs seven people and makes equipment to manufacture metal hoses. McIntosh told Romney the company's doing o-k, but hasn't been able to grow because of economic uncertainty, and if he wants to hire someone, he says he cannot find qualified candidates.
"A lot of manufacturers in Northeast Ohio have difficulty finding qualified workers, the all want to work on Wall St. or for Apple, nobody wants the dirty manufacturing jobs. And for me it's also the uncertain economy. I've had 3 or 4 years of it and it's time to end it, I hope you get elected."
"Thank you Morgan, I hope to win and get the economy back on track. In terms of uncertainty, we'll repeal Obamacare and cut taxes which are killing small businesses. An small business owner in St. Louis told me half of what he makes goes to taxes."
And on the issue of job training, Romney says there's no coordination between the nearly 50 federally funded programs available.
"And they report to eight different agencies and spend $18 billion on these programs. But too often they don't match the needs of the people. So I want to take those dollars and send them back to the states so they can fashion programs to meet the needs of their workers. And I'd like people to have personal training accounts they can use to get the training they want."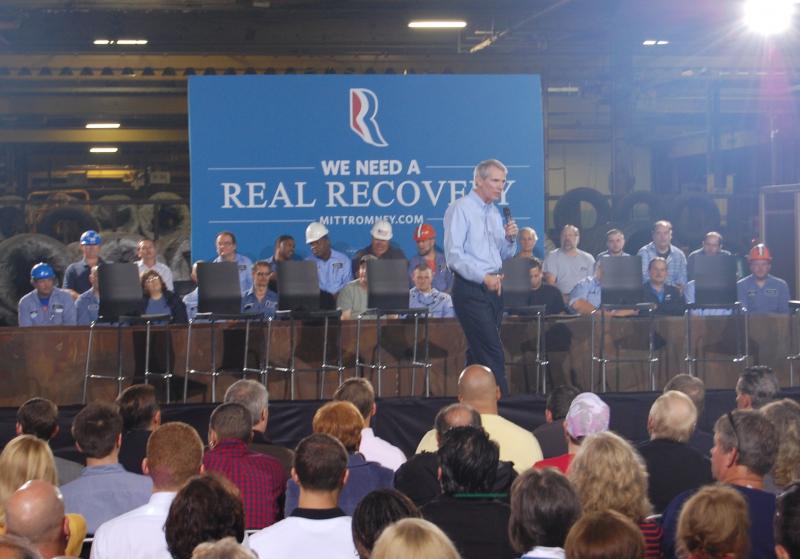 And Romney blamed the part of the country's manufacturing problems on President Obama for being soft on China on unfair trade practices. Romney says he'll be tougher on China. But Obama campaign officials say that when the president pushed China for dumping tires in the U.S. market, Romney called it protectionism.

After the rally, Kevin Smith of Salem said outsourcing of U.S. jobs is a big concern, and he believes Romney will do a better job of getting them back.
"It's a huge problem and I especially agree with trying to get the jobs back here by lowering the tax rates and regulations."
"A lot of people are concerned about Romney trailing Obama in Ohio in the polls, what do you think?"

"I don't believe the polls, I think they're weighted toward the Democrats from the 2008 election instead of 2012. I don't think the Democratic turnout is going to be as big as 2008. So I follow the Rasmussen and Gallup polls that have Romney behind by one point."
Other polls show Romney trailing Mr. Obama in Ohio by as many as 10 points.