Loading...


Environment



Sunday, September 30, 2012




Summer drought leads to autumn pumpkins




Orange gourds doing just fine despite dry June/July


by WKSU's KABIR BHATIA


Reporter
Kabir Bhatia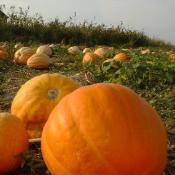 Dussel Farm has held a Pumpkin Fest for the last 25 years, and this year's crop is among the best
Courtesy of Dussel Farm
Download (WKSU Only)
In The Region:
This year's fall overall harvest may be a little thinner in Northeast Ohio after a very dry summer. But one popular autumn crop is doing just fine.

"Sometimes we paint 'em, and sometimes we carve 'em."

Mia McSweeney is talking pumpkins. The Akron fourth-grader was at Dussel Farm over the weekend, trying to find a jack-o-lantern-to-be. Row after row of big, plump orange gourds take up a big chunk of the front lawn on Old Forge Road.

The Brimfield farm has held a Pumpkin Festival for the last 25 Octobers, featuring a haunted school bus, crafts, and an eight-acre corn field maze.

This year, the dry June and July cut the corn harvest by about a tenth. That's driven up prices for grain and animal feed, according to Jason Curtis, who manages Dussel's year-round feed store. But the pumpkin crop has done very well.

Curtis expects the pumpkins to sell until mid-November, not just for Halloween but also as decorations, and… for pies. Angie Kuchenbecker works at the farm and can rattle off a pumpkin pie recipe in nothing flat.

"Cut your pumpkin in half, clean the seeds out, and then peel the skin off and then just put it in a little bit of water and boil it 'til it's soft and then smash it. And then you add evaporated milk, sugar, spices, and then you cook it like you would a normal can of pumpkin pie."

Pies and jack-o-lanterns are fine for people, but back at the feed store, Jason Curtis is filling a different set of orders.

"Chickens love pumpkins. Pigs and goats. A lot of your stock animals. We also have a big worm farm that comes and gets some of our leftover pumpkins. And the deer people, the hunters and the people that feed the deer, apparently pumpkins are a very good treat for the deer."

Curtis says the most robust pumpkins, which last the longest, have a strong, thick, dark green stem and a deep orange color.
---
---
---
Stories with Recent Comments