Everyone's invited to see the new 27 million dollar museum for free on Monday's opening day. Later, adult admission to the second and fourth floor exhibition galleries will be $8.
But admission to the ground floor of the new building will always be free. It's intended to be an "urban living room" with a museum store, a cafe kiosk, and a change of furniture every year to be designed by students at the Cleveland Institute of Art.
Marketing Director Tom Poole says the free first-floor community lounge will be a starting point for exploring the cultural amenities of University Circle.

Art in a homey atmosphere
"We've designed that so that people can come in have a cup of coffee, shop in our store; students can come in in between classes, use our WIFI. We'll have a lounge-type feeling during the day with a real casual atmosphere because we want people to feel at home in this space."
Children and families will be welcomed by an expanded range of educational programs, including the Art Squad, a trio of life-sized cartoon walkabouts dispensing hugs and information.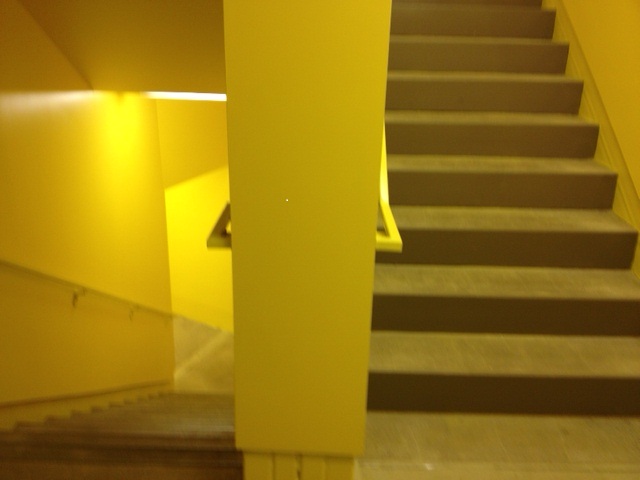 Tom Poole expects kids to gravitate to the spiral staircase. It mimics the twists and turns of the building's facets. And to save space, the egress stair is embedded within the interior stair.
"Farsheed Moussavi, the design architect, said it has almost a Mobius strip effect to it, and she envisioned kids especially just going inside and outside of the stair. They'll both be open at all times. It'll be a really fun way to travel up the building."

Inside out
You don't even have to step inside the new MOCA to glimpse the art and activity inside. You enter through a floor- to- ceiling triangle of glass to be greeted by a monumental spray-painting splashing across the spiral staircase to the top of a 55-foot atrium.
MOCA Assistant Curator Megan Reich says the installation by German artist Katherina Grosse serves as a beacon.
"And as you transition up the floor, you start to see new colors, new forms, new textures that you don't get from outside. So it's really beautiful in the way that it evolves as you experience it. And it's meant to really showcase out to the plaza and the world the kind of things that are happening inside."
Marketing Director Poole says you'll be able to watch curators, installers and artists at work because there are no pillars or columns and most inside walls are glass.
"So from different points of the museum, you can look up and see what's happening in the workshops, what's happening in our education room and get a full sense of the scope of programs that are happening at MOCA."
And from outside the museum, you get a sense of how it's knit into the urban fabric that surrounds it.
MOCA's Executive Director Jill Snyder says the architect angled some of the facade's shiny facets skyward, while others tilt down to the street.
"So you can be walking around the building and see the street-level activity reflected and then come right around the corner and see clouds and sky."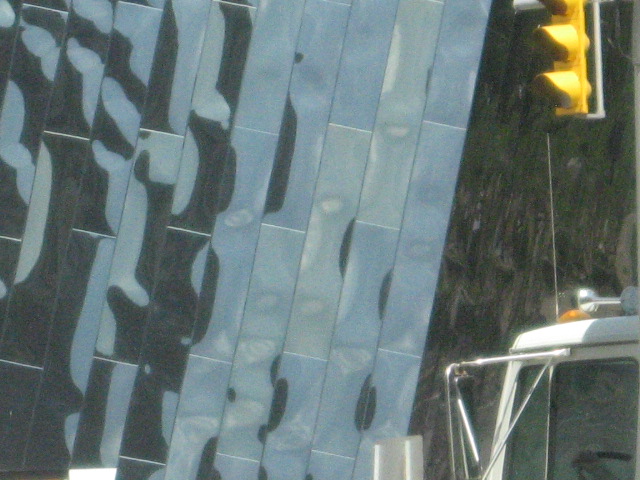 Three goals achieved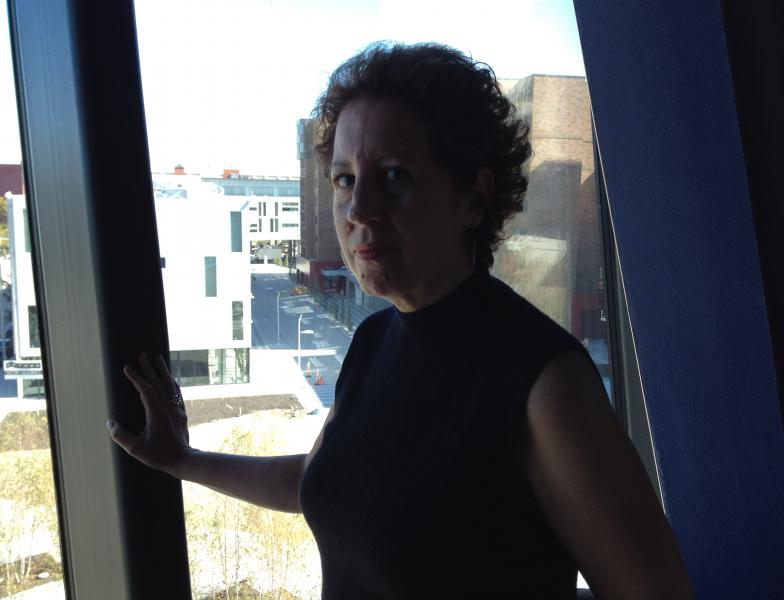 Snyder says Moussavi achieved the museum's main goals: transparency, flexibility and urbanism.
Just a few blocks away, the new atrium at the Cleveland Museum of Art is also designed as an urban meeting place.
Snyder says the two will work together.
"Janet Cardiff, who does major installation-scale works. … We will be featuring a large piece by her in our second season main gallery, and the CMA will be featuring a main piece by her in their gallery as well. So right out of the gate, we are demonstrating a real desire to collaborate with the 800-pound gorilla that lives in our community. And we are very excited also to show the complimentary qualities of a contemporary art museum and an encyclopedic art museum."
Unlike the Cleveland Museum, MOCA has no permanent collection. Tom Poole says that lets it be not just contemporary... but new.
"We have the ability to bring in artists who are really at the cusp of the art world, artists who haven't necessarily been shown in this region before, and really focus on the newness and the nowness of the art of our time."
That's where the new building's flexibility comes in. The open space can be configured for frequently changing exhibitions as well as lectures and concerts.

Celebrating with music and dance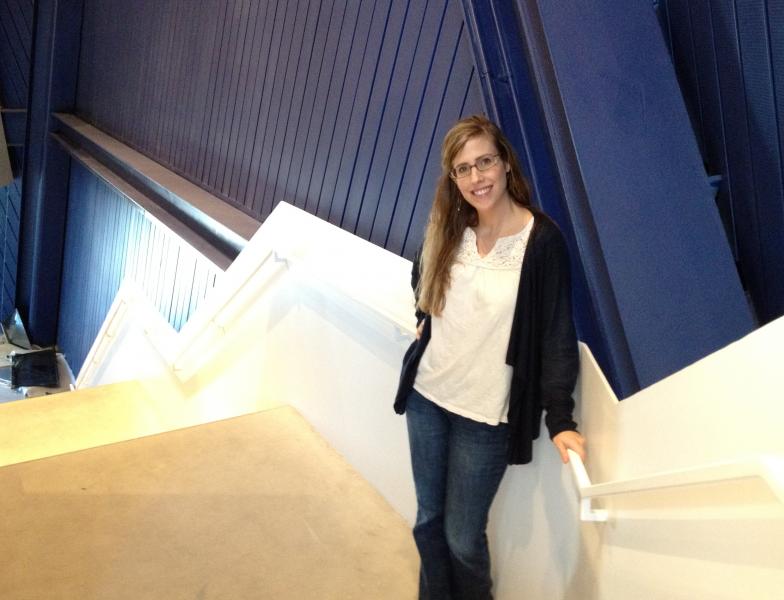 Reich says programs for the inaugural season will celebrate MOCA's new home.
"Exploring the ways in which the new building allows for new opportunities for unique approaches to concerts, tours, art-making, things of that nature."
An example: In November Groundworks dancers will be flitting like butterflies through the airy space.
"The audience will have to move to find the movement, so it's all about interacting with the building and moving to get a new perspective. "
As you move through the museum, Executive Director Snyder says your encounter with its art is meant to be affected by its architecture.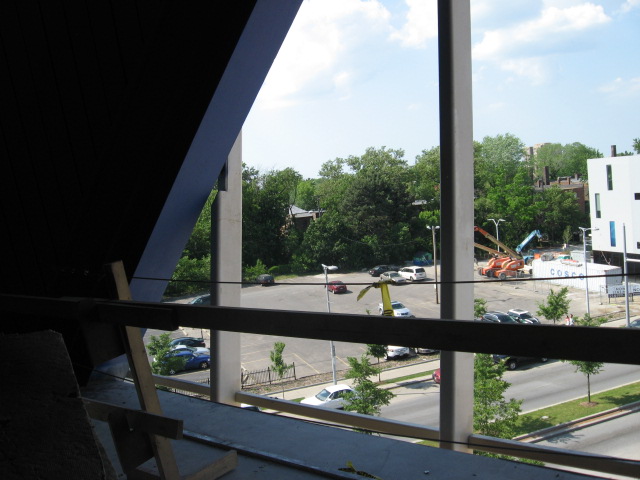 "The soaring quality of the atrium; the way in which you walk up the stair and it weaves you through the space, all affect your mood and enhance your sense of awareness."
Snyder expects 65,000 visitors a year. That's more than three times what the old building in the former Cleveland Playhouse complex used to draw.
"It was never designed as a museum. It was a retrofit of a department store, so no matter how much you jerry-rigged it, it was never going to be designed as a professional museum quarters."

Living artists
Snyder says one of MOCA's key assets is being able to show work of artists who are still with us.
"The living artist may be here for a week, three days, two weeks at most. This allows us to capture their voice through audio or video. We can stream it though our website. We can make podcasts that are available by cell that you can use in the galleries."
And now, with two galleries, the museum plans more frequent exhibitions. Plans are to stagger shows so that, while art is being installed in one gallery, it's exhibited in the other one.
At 34,000 square feet, the new MOCA is about 44 % larger than the old building, though it has not an inch more exhibition space. Snyder says the key gain in the move was space for support systems and public education programs that weren't possible in the midtown building.
"But the key driver as they say was 'location, location, location.' This allowed us to be in the intellectual and cultural capital of the city and to have the pedestrian traffic that University Circle provides."
Snyder says MOCA will remain globally focused while retaining its commitment to show the work of local artists.
Barry Underwood, head of the photography department at the Cleveland Institute of Art has been documenting the new building since the start of construction and his work along with those of 15 established and emerging artists will be in the opening show titled Inside Out and from the Ground Up.
The glass door of Cleveland's new Museum of Contemporary Art will open wide starting Monday afternoon at 1p.m.