Loading...


Government and Politics




Monday, October 8, 2012




Renacci, Sutton vie for the 16th




Two incumbents differ on tax increases and spending cuts


by WKSU's KABIR BHATIA
This story is part of a special series.



Reporter
Kabir Bhatia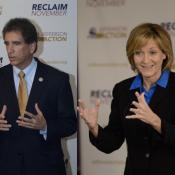 Congressional redistricting pitted two incumbents against eachother: Republican Jim Renacci and Democrat Betty Sutton
Courtesy of Robert Sustersic
Download (WKSU Only)
In The Region:
Jim Renacci and Betty Sutton will square off in their only debate Wednesday in Cleveland, well outside the 16th District in which the two incumbent members of Congress are running against each other. But over the weekend, they answered questions – albeit separately -- from "Reclaim November Ohio," a non-partisan microcosm of their constituents-to-be. WKSU's Kabir Bhatia has more on a race that's drawing national attention.
Redistricting by Ohio's GOP lawmakers shifted the bounds of the 16th Congressional District from one centered on Stark County to one sprawling further north and west. It now includes pieces of Summit, Portage, Medina, Stark, Cuyahoga and Wayne counties, pieces that have fallen largely into two districts: one represented by Republican Jim Renacci for the last two years and the other by Democrat Betty Sutton for the last six years.

And that's led to one of the most expensive, negative Congressional races in the U.S.

Which, in turn, led Reclaim November to choose the new 16th for a forum of voters discussions with political experts and deliberations on economic issues.

Reclaim's two gatherings in Fairlawn over the last three months were sponsored by the Minnesota-based non-profit Jefferson Center. Participants were an almost even mix of men and women, and of Republicans, Democrats and independents.

At the first forum in July, they delivered a report to the candidates that said voters don't want mudslinging; they want answers on the federal deficit, unemployment and job growth.

Both Renacci and Sutton attempted to follow up this weekend with answers to some two-dozen participants.

Cutting costs; talking tax
Sutton said she wants to rein in the deficit by cutting oil company subsidies and letting high-income tax cuts expire.

Renacci cited just one program specifically for cuts – National Public Radio. But he cited two areas for reform.

"We need to make sure Medicare, Medicaid and Social Security are solvent. We need to do some reforming of those. We need to look at our costs in defense. But I gotta tell you, we can't make our military go back to 1940 standards. I don't think we cut pay. I don't think we cut equipment. If we're gonna send people to war, we have to make sure they have the ability to protect themselves and all the equipment they need. At the same time, when they come back, we have to take care of them."

When she heard that, Dana Robinson of Norton said she was hoping for more specifics.

"I was hoping that Congressman Renacci would have expounded some more on what type of things he would like to do in reforming it. Because it kind of scares you when someone wants to start changing things and you don't know how the outcome will be."

Who they are
Renacci made millions through small businesses including nursing homes and a car dealership – which he lost in the aftermath of the auto rescue. He has condemned the bailout and the health-insurance overhaul, along with the healthcare overhaul, and opposes eliminating Bush-era tax cuts for wealthy people -- saying that would hurt small businesses and jobs.

Betty Sutton – once a labor lawyer and state lawmaker – was a big supporter of the auto bailout. And like President Obama, she says the tax cuts on higher incomes should expire to help cut the deficit and to support other programs to bolster the middle class.

"I think when the middle-class goes out and spends money at the pizza shop, that small businessman, or woman, gets to stay in business. I think that, when the middle class is doing well, those at the top are also doing well."

Still too vague
That was too vague for Dan Carvill, a sales engineer from Brimfield.

"I want details. If you tell me you're gonna cut something, tell me what you're gonna cut, how much you're gonna cut, and what's the overall result or benefit gonna be."

The final report on the candidates' presentations rated Renacci higher for the quality of his proposals, and the likelihood for their success, in all three areas (unemployment, the deficit and economic growth).

Common ground
The candidates shared some common ground. They agreed that employers should get incentives to train employees. And each claimed they had a record of bi-partisanship: his evidenced by vice-chairing the Financial Institutions and Consumer Credit Subcommittee; hers by her sponsorship of "Cash for Clunkers."

That was a big plus for Carvill.

"I mean you've got a House with 435 representatives. They have their own party lines and party leaders they have to follow. But the truly courageous ones will step across the aisle. They will gather consensus. "

An odd race
The race for Ohio's 16th District is one of only two in the country to pit incumbents of opposite parties. No outside polling has been released in the race.

The Sunlight Foundation says outside groups have spent nearly $4.2 million on the Renacci/Sutton contest, second only to a congressional race in California.
---
---
---