Loading...


Government and Politics




Tuesday, October 16, 2012




Catholic voters at a crossroads




One-quarter of registered voters are Catholic, and they're trying to decide how to merge faith into the political process


by WKSU's KABIR BHATIA
This story is part of a special series.



Reporter
Kabir Bhatia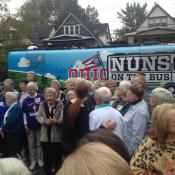 "Nuns on the Bus" kicked off a 1000-mile, statewide tour, visiting social service agencies that may be threatened by state and federal budget cuts.
Courtesy of Carl Carlson
Download (WKSU Only)
In The Region:
Catholic voters will make up about one-quarter of the electorate this year, as they did in the last three presidential races. WKSU's Kabir Bhatia reports on the key swing block of voters in Ohio, and its varied views on faith and voting.
Until the 1960s, a castle-like building on Cleveland's East Side was Notre Dame Academy, a Catholic all-girls school.

After sitting dormant for decades, it was re-furbished into Famicos, a non-profit that helps provide housing – either on-site or in the neighborhood -- for homeless families.

Amy Eiben, director of programming, says re-habbing abandoned properties is just one of the agency's missions.

"We now have a computer lab where we teach technology education. We offer emergency utility assistance, and we do just a ton of community engagement activities here in Glenville."

Nuns on the bus
Famicos also was one stop this weekend for the "Nuns on the Bus Tour." Two-dozen Ohio sisters have been touring the state since last week to highlight organizations that are threatened by state and federal budget cuts.

Sister Monica McGloin says whoever is elected president next month should follow the "Faithful Budget," which was drawn up by Christians, Jews and Muslims.

It contains no numbers, just ideas, including home energy assistance, addressing child hunger and supporting the Affordable Care Act.

During the vice-presidential debate between Catholics Joe Biden and Paul Ryan last week, McGloin heard few ideas that are key to that budget.

"Neither one of them really talked about the poor. And central to the Gospel is a concern for the poor. And they didn't talk about the whole spectrum of life. To be pro-life, that's from conception until your natural death. And I think that that's what it means to be a Christian. The Gospel I read, and Catholic social teaching, it's not enough to say, 'Yes I love the poor.' You have to do something."

McGloin and her fellow travelers say voting is one way to "do something." And both the Republican and Democratic presidential campaigns are wooing Catholic voters.

The Catholic "Swing" Vote
According to a new study from the Pew Forum on Religion and Public Life, Catholic voters are divided about evenly -- one-third white moderates, one-third white Republicans, and one-third white Democrats and minorities, two groups that often vote in lock-step.

Barack Obama won the Catholic vote by a 9-point margin in 2008. Right now, the Pew study, titled "The Catholic Swing Vote," shows President Obama with a 2-point lead.

The Catholic Church itself is divided, both politically and internally.

The Vatican and The Affordable Care Act
The American bishops were critical of the Affordable Care Act before it passed, and continue to claim its provision for contraception for employees of Catholic hospitals, colleges and other institutions violates separation of church and state.

But the largest organization of nuns, the Leadership Conference of Women Religious, supported the act, saying it is crucial for the nation to provide access to health-care for everyone.

And the Vatican is now investigating the conference, saying it has strayed into radical feminism.

Some of that division is showing up among parishioners as well.

Year of Celebration
At St. John's Cathedral in downtown Cleveland, Catholics led by Bishop Richard Lennon kicked off a year-long celebration of their faith Sunday.

"Throughout the entire world, we've started a Year of Faith. Pope Benedict XVI has asked us all to reinvigorate the faith, to appreciate it more deeply, and to live it more profoundly. So here at the cathedral, here in Cleveland, the Mass is all about that."

Cynthia Telesz was among those joining in the celebration on a blustery Sunday morning. She's also supporting Republican Mitt Romney for president.

"I believe that health care should be accessible and affordable, but we should be able to choose our healthcare. Romney really has a clear vision. His five-point plan, I'm really impressed by it. I really believe in what he's talking about.

"I like his posture on healthcare, on lowering taxes. I like his posture on military spending, but as far as defense of this country. I think it's really important that if we're being attacked in Libya, that we stand up to that kind of aggression against us."

On the flip side, Fred Applegate, who's in town from New York performing in "Anything Goes" at Cleveland's Palace Theater, supports President Obama.

"It is always a good idea to think what your basic beliefs are, and how to apply them to policy, and how those policies can be applied. It would be good for all of us to call ourselves to consider what our beliefs are, and what our desires for the future are, and how they can best be served by who we vote for."

Undecided
And asking himself those tough questions, Joseph Csaszar from Maple Heights is still undecided.

"With President Obama, I like his wanting to help people, wanting to help the poor, his health program. Keeping food stamps for people. With Romney, I like his program on abortion. On birth control. So I feel both are religious issues. So, President Obama, I give A+ on these programs to help people, but F-minus on things like abortion. With Mitt Romney, it's the exact opposite. F-minus on these programs, cause I know he's gonna cut a lot of them, but A+ on limiting things like abortion."

Nones on the rise
Due largely to immigration, Catholic voters still make up a quarter of the electorate, and Catholics still make up a quarter of the general population. But another new Pew report, "Nones of the Rise," shows that the number of Protestants in the U.S. has dropped below 50 percent for the first time, while the number of people considering themselves unaffiliated with any religion has grown from 15 to 20 percent in the past five years.
---
---
---