Since the day it officially opened, November 2, 1912, the market has been more than a place to buy food. It's where immigrants come to hear their native languages, where families keep traditions, and where politicians come to campaign.
"There's always lots of people around and that's what politicians like."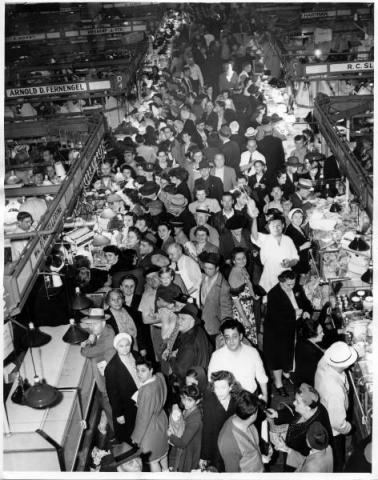 State Representative Armond Budish first came as a child.
"We used to come down and get produce, vegetables, and sometimes because I would go along we would get some baked goods, too. Anything with sugar."
Marilou Suszko grew up in Lakewood. She remembers visits to the market with her grandfather and hearing his childhood memories:
"He and his brothers, who were a bunch of mischief-makers, they lived over here on Columbus Road, the Columbus Road hill. And they would come to the market and they would steal watermelons and roll them down Columbus Road hill."
Politics almost spoiled the food arcade
Suszcko approached fellow food writer Laura Taxel a few years back on writing a book about the market.
"She said , 'Let me think. Okay.' And today we have a book."
The West Side Market : 100 Years and Still Cooking tells the story of one of the nation's oldest city-owned markets, beginning in 1898 when it was first proposed.
Political feuds and lawsuits delayed the start of construction until 1907, but 5 years later the 27,000 square foot building was complete at a cost of $680,000.
It's on the National Register of Historic Places. Its tiled walls and vaulted ceilings draw in fans of the Beaux Arts style who aren't even hungry.
Hubbell and Benes were the architects, the same team that gave us the Cleveland Museum of Art and the Illuminating Building on Cleveland's Public Square.
When the West Side Market opened, butter was 32 cents a pound, Cleveland was the nation's
6th biggest city, and the market's 137 –foot clock tower served as a beacon for a boomtown.
Changing times
The clock hasn't always kept good time. And times have changed, but the market still works for the 109 vendors and the one million visitors a year who walk through its aisles. Some of the family names have been on the stands for 100 years.
Suszko and Taxel conducted more than 300 interviews for their well-illustrated coffee-table book, but their own memories are just as vivid.
Taxel moved to Cleveland in 1971 as a newlywed:
" And I kind of learned to cook by coming to the market. And I'd pick up a vegetable and I'd ask one of these stand owners 'What's this? What do I do with it?' and everybody always had something to tell me, something that was helpful." "Learned to tell the difference between a rutabaga and a turnip."
That's one of the market's big attractions. It's something farmers' market shoppers now enjoy and grocery store shoppers can never find…real people to actually talk with about how to pick a good eggplant or what to do with brussel sprouts.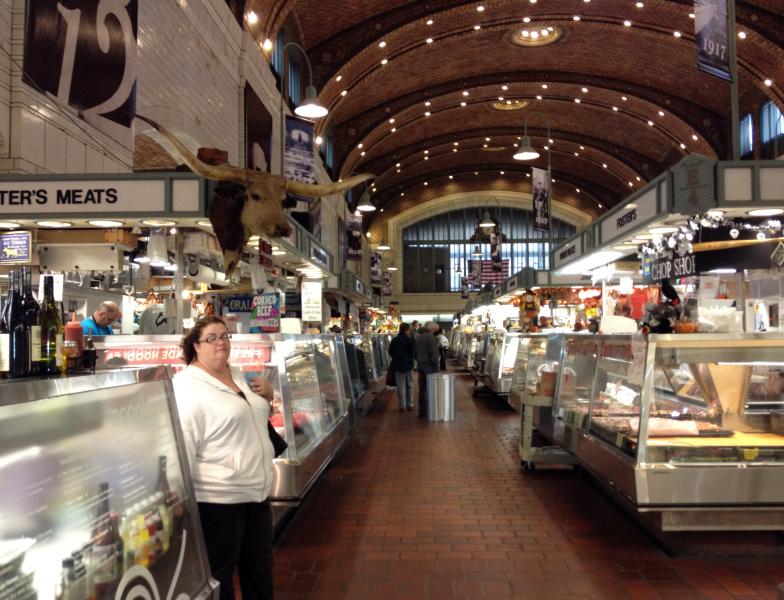 Gritty but always interesting
The market stands now as the anchor of a slowly-changing neighborhood. It still feels a little gritty. There are echoes of the days when there were 56 taverns in the vicinity of 25th and Lorain.
And the market still has its characters. Suszko says a shopper who wore big over-sized dresses is still a legend.
" Beatrice would when no one was watching would kind of slip a couple of loaves down the front of her dress. And when they caught her they said 'Beatrice, you got to pay for the bread.' And she did. It was no big deal . It's just like those are the kind of things that happen here."
Changes in the neighborhood
A lot of positive things are happening now. A burgeoning culinary district surrounds the market, with superstar chefs like Michael Symon bringing one-percenters in Calvin Klein suits to sidewalks that ladies in babushkas used to tread.
Laura Taxel says the market has always mirrored the changing face of Cleveland.
" In the early years of the market you had people from northern Europe who operated the stands inside and people from especially Italy outside in the produce business. Now most of the produce businesses are owned by people from the Middle East, and it's a total mix inside. You have some of the old German families still in the butcher business, but you also have two Cambodian women who own stands here."
Cambodian immigrant Narrin Carlberg raised two daughters behind her stand, Narrin's Spice and Sauce.
During the last presidential campaign John Cain bought hot sauce at Carlberg's stand.
Today gourmets can get fresh Chilean Sea Bass, champagne mangos and artisan goat cheese at the market.
But you can still get pig's feet, blood tongue, and Dohar's Meats still makes head cheese in a stand right next to a trendy new arrival, celebrity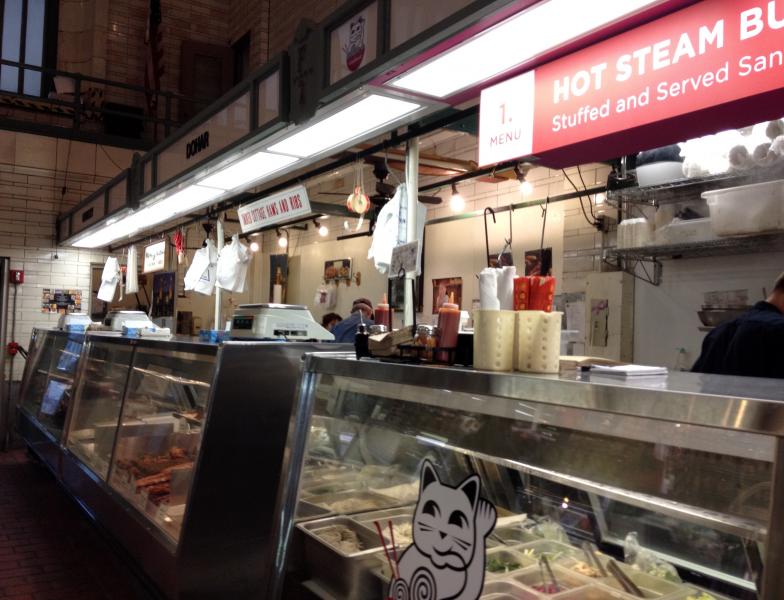 chef Jonathon Sawyer's Noodlecat.
Sharing the pride
Many native Clevelanders have never been to the West Side Market, but Laura Taxel says just like those who have never been to Severance Hall, they share in the pride.
" There are people who come once a year for the holidays because that's a family tradition, people who bring out-of-town guests here to show it off. There are people who come from other places specifically to explore the market because they've read about it. It's become another jewel in our crown if you will, so yeah, everybody's sort of proud of it even if you're not a patron."
The West Side Market will celebrate its centennial this weekend at a sold-out fundraising gala. Tickets were $250. Proceeds will go toward capital improvements for the century-old landmark.
And that's this week's Quick Bite.
Next week we're heading out to Amish country for Thanksgiving turkeys.