Loading...


Government and Politics




Wednesday, October 17, 2012




Retiring Congressman pushes for higher gas tax




Outgoing Congressman Steve LaTourette advocates a much needed, but unpopular political reality


by WKSU's JEFF ST. CLAIR
This story is part of a special series.



Reporter / Host
Jeff St. Clair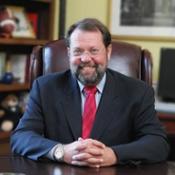 Retiring Congressman Steve LaTourette says America's crumbling infrastructure is a hazard beyond politics, but Washington gridlock is stalling any solutions to the problem.
Courtesy of LaTourette campaign
Download (WKSU Only)
In The Region:
When you buy a gallon of gasoline, 18.4 cents in taxes go to the Federal Highway Administration. Retiring Republican Congressman Steve LaTourette of Geauga County says that tax is too low, and generates only about half the money the nation needs to maintain its highway system. WKSU's Jeff St.Clair spoke with LaTourette about his plan to raise the gas tax, an idea LaTourette admits, is a long-shot.
Representative Steve LaTourette (R-Bainbridge) says the current gas tax of 18.4 cents raises about $32 billion a year, but our sagging infrastructure needs twice that to stay in good repair. In 1997 Congress created a firewall that ensures all gasoline tax revenue goes toward to the Highway Administration, but has not raised the gas tax since 1993.

Without an increase in revenue, LaTourette fears that the 2007 bridge collapse in Minneapolis could happen in other cities with similar substandard infrastructure. The Congressional Budget Office predicts that without the increase, the federal highway fund will be insolvent by 2015.

He says a report from the American Society of Civil Engineers gives failing grades to two bridges in his 14th Congressional district, and many others across Ohio. The 2012 Federal Highway Bill (MAP-21) does not include the $0.15 gasoline tax increase that LaTourette and a handfull of lawmakers are advocating to fix the problem.

LaTourette says political gridlock is kicking the can down a crumbling highway that neither party will take responsibility for repairing. He says the inability to accomplish even the most necessary tasks is one of the reasons that he's retiring after serviing 18 years in Congress.
---
---
---