The 9th and 21st concertos were recorded live, as were Uchida's two previous Mozart discs with the Cleveland Orchestra, one of which won a Grammy.
From 2002 to 2007, Uchida performed all of Mozart's piano concertos at Severance Hall.
She had recorded all of them previously with Jeffrey Tate and the English Chamber Orchestra, but wants to explore them anew with the orchestra she loves most.

A family feeling
" Cleveland Orchestra, that's my family. Even as a kid and as a student in Vienna in the 60s, late 60s, I remember listening to Cleveland Orchestra recordings and thinking, 'Oh God this is a beautiful orchestra.' And then I started visiting here even before I performed with this orchestra. So it's a long, long relationship.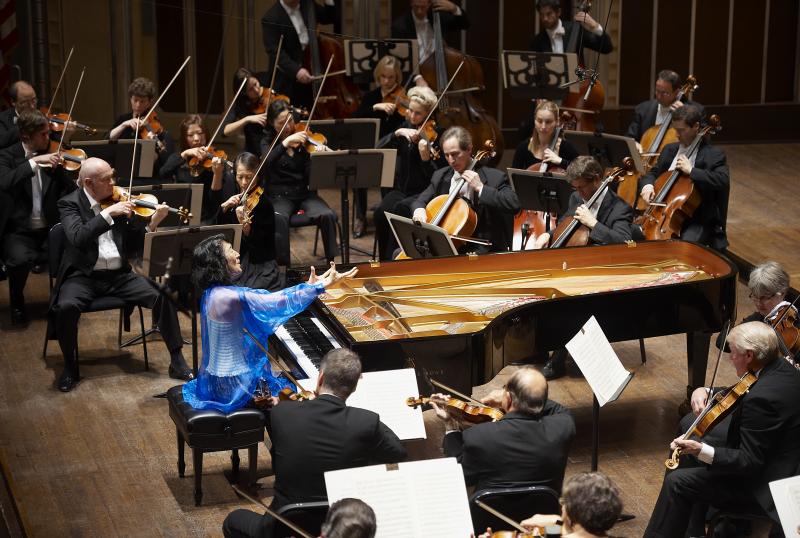 Uchida has already recorded the entire cycle of Mozart piano concertos with Decca.
"But I always wanted to have re-recorded. And I knew the only people that I wanted to do that with was the Cleveland Orchestra. I dreamt about it and I got my way."
Uchida performed all the Mozart concertos with the Cleveland Orchestra over the five- year period when she was artist-in-residence. But it's unclear whether she will record the entire cycle with the Cleveland Orchestra.
" I'm not sure we will make it, but we are at the moment recording one recording a year. I'm coming back for, as I call them, encore concerts. We're doing one a year at the moment and we'll see how far we go."

The advantage of recording live
Her earlier recording of the complete Mozart cycle with Jeffrey Tate and the English Chamber Orchestra were not live recordings.
Today, Uchida prefers to record live.
"Next best thing after a live, really being there when it is born, is a live performance on a recording. I have come to the conclusion more and more how much more alive it is. But what a concert is from the performer's point of view is , it is in that room, however big or however small, I'm sharing this gift of this extraordinary music with the people who are sitting in the same hall. That is an experience and that in itself is a gift. That's why being a musician is so wonderful."
Another reason she wants to do Mozart again with Cleveland is that she wants to conduct from the keyboard.
" The first time round I had a conductor. And I always wanted to have done it without a conductor. Just the orchestra and me. They have to listen to my playing much more intensively and I have to listen to them much more intensively, and it becomes much closer to chamber music and that's what I really love."
Uchida should be addressed as Dame, since the Queen has named her Commander of the Order of the British Empire. She lives in London with four concert grand Steinway pianos as well as the Buesendorfer she bought as a student in Vienna, and a copy of the 1762 clavichord Mozart used in his travels.
Uchida performed a recital last year at Severance Hall, donating her talent to benefit the Cleveland Orchestra's sustaining fund for pianos.
Mitsuko Uchida, conductor and pianist, will return to Severance Hall to perform Mozart again with the Cleveland Orchestra in April.