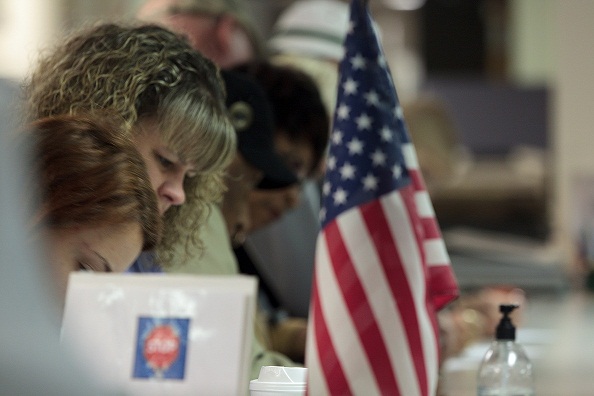 The fight over early voting in Ohio lasted more than a year, with fierce battles at the Statehouse and boards of elections and in the courts.
And despite concerns over voter suppression, the level of publicity surrounding those battles may account for a surge in early voting throughout the state.
Jane Platten is director of the Cuyahoga County Board of Elections. She says 13,000 voters have shown up in person since early voting began on Oct. 2 about 2,500 ahead of four years ago.
She says mail-in absentee voting is surging as well.
"I think that the campaigns and the media have talked about early voting a lot more this year than they did in 2008, partially because of the uncertainty in terms of what the hours would be on the weekend, particularly the last weekend. But also, this early voting program has progressively become more popular sinc 2008."
Statewide, about a third of voters cast their ballots early in 2008.
According to Secretary of State Husted's office, nearly 18 percent of Ohio voters nearly 8 million voters already have requested absentee ballots or voted early. Cuyahoga leads in both types of early voting, followed by Franklin, Hamilton and Summit.


Ohio Absentee Voting Report as of Friday, October 12, 2012


Absentee Ballots Requested By Mail
Absentee Ballots Cast By Mail
Military & Overseas Absentee Ballots Requested By Mail
Military & Overseas Absentee Ballots Cast By Mail
Absentee Ballots Cast In Person
Adams
2057
977
31
8
308
Allen
7932
4003
131
26
1327
Ashland
4448
1909
79
8
895
Ashtabula
7938
2339
130
31
643
Athens
4932
1274
191
22
988
Auglaize
3501
1607
44
2
470
Belmont
11617
4763
60
11
487
Brown
3175
988
45
6
402
Butler
25165
8568
442
94
3626
Carroll
2472
667
37
9
212
Champaign
2990
1058
43
4
547
Clark
9784
3566
186
40
2205
Clermont
18884
5872
227
36
1423
Clinton
3142
1586
39
8
528
Columbiana
7063
2167
94
24
485
Coshocton
3998
1321
50
11
228
Crawford
4016
1248
50
15
542
Cuyahoga
235515
50091
2115
219
11269
Darke
2763
1036
61
9
626
Defiance
2530
589
59
12
531
Delaware
23829
2166
281
24
2241
Erie
8565
2742
110
17
1242
Fairfield
17513
3598
233
47
1494
Fayette
1848
596
19
2
340
Franklin
165044
42533
1593
268
12838
Fulton
3161
922
38
7
432
Gallia
1856
13
24
7
215
Geauga
11097
2889
179
28
682
Greene
12719
942
504
87
2674
Guernsey
3320
1388
43
3
262
Hamilton
87253
28395
1468
220
5540
Hancock
4749
217
90
18
1226
Hardin
2147
972
33
6
393
Harrison
1521
367
17
3
79
Henry
1628
465
30
6
471
Highland
1931
42
22
5
477
Hocking
2837
294
29
10
413
Holmes
2205
50
36
7
346
Huron
4973
2177
87
17
538
Jackson
2413
60
31
7
319
Jefferson
6595
998
96
20
476
Knox
6462
188
104
6
805
Lake
31838
1685
305
40
1392
Lawrence
5322
999
46
13
360
Licking
19664
4528
219
39
1797
Logan
3418
1690
60
13
627
Lorain
34439
1963
466
98
4118
Lucas
44744
115
556
70
5245
Madison
4290
960
31
4
267
Mahoning
30103
12436
206
43
3371
Marion
3224
565
49
7
576
Medina
19528
6532
253
53
2777
Meigs
1646
618
16
2
170
Mercer
4015
208
47
9
491
Miami
7848
1
127
26
1386
Monroe
1362
563
12
5
135
Montgomery
42921
3817
822
93
6013
Morgan
1540
456
16
1
179
Morrow
2893
987
37
9
285
Muskingum
9416
3618
87
20
918
Noble
1389
607
10
3
214
Ottawa
4506
1401
69
15
659
Paulding
1477
420
25
5
273
Perry
3085
482
35
4
109
Pickaway
5166
2340
56
6
499
Pike
2234
262
22
3
211
Portage
13847
110
235
53
1627
Preble
2487
1095
47
13
436
Putnam
2780
961
30
7
248
Richland
11181
3188
183
35
2380
Ross
7343
2116
73
13
686
Sandusky
4291
1255
79
19
668
Scioto
5447
2648
68
21
958
Seneca
3915
1805
68
14
481
Shelby
3527
1688
60
13
622
Stark
35179
2018
447
60
2893
Summit
64895
9752
706
123
6593
Trumbull
19826
3065
244
63
2997
Tuscarawas
9877
2765
93
22
991
Union
4900
1118
64
8
892
Van Wert
1915
81
25
4
1100
Vinton
1406
491
6
2
88
Warren
22313
6874
298
63
2065
Washington
5567
676
68
12
994
Wayne
9153
747
189
32
1483
Williams
2734
563
35
4
442
Wood
10871
1945
192
31
1937
Wyandot
1525
443
12
4
175
Total
1,268,635
280,300
15,975
2,607
124,073