Paul Ryan campaigned at Baldwin Wallace University near Cleveland, his fifth Ohio visit since last Friday. He told the crowd of about 1,200 in the university gymnasium that Mitt Romney won Tuesday's second presidential debate because he again offered his 5-point economic plan, while Mr. Obama offered nothing.
Ryan touts Romney debate performance
"Cut through the clutter of all the attack ads and what did we see? We saw a president not offering a single new idea on how to turn things around. We saw a president not offer a single idea or lesson learned from the failures of the last 4 years. But what we saw in Governor Mitt Romney is a leader with solutions to turn this economy around and get America back on the right track."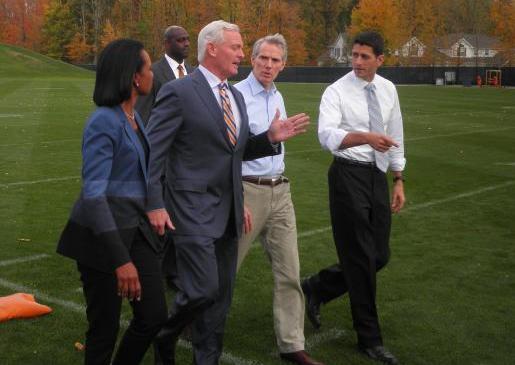 The Obama campaign countered, saying Romney failed to explain exactly how his plan would work, and that a Romney presidency would mean tax cuts for the rich, and a voucher system replacing Medicare. Warming up the crowd for Ryan, Condoleezza Rice said this election is about the nation being at a crossroad. She blamed President Obama for the unemployment problem, and says Romney will be a better president for the students in the audience.
Rice fears college students won't have jobs after graduation
"The transforming power of education that these young people are experiencing at this university is a wonderful thing. But I want for them when they leave here to be able to take part in the prosperity of an economy that works like it did for us. That's also what this election is about and it's being watched around the world. Because America needs to lead from strength, but more than anything it needs to lead from its values and principles. And Americans need to feel confident in our values and principles so we want to lead."
Rice and Ryan visit Cleveland Browns practice
Rice stayed away from any remarks on foreign policy issue that have become campaign fodder like the terrorist attack in Libya.After the rally, Rice and Ryan made the short trip to the Cleveland Browns practice facility where they met with the team's new owner Jimmy Haslam and some of the players.

Rice is a long-time Brown's fan, and Wisconsin Congressman Ryan is a fan of the Brown's star offensive tackle Joe Thomas, a University of Wisconsin product. On the practice field, Ryan talked hunting and football with Thomas. Thomas, a Republican, campaigned for presidential hopeful John McCain in 2008. After visiting the Brown's facility, Ryan traveled to Columbus for private fund raiser and another public rally.