Loading...


Government and Politics




Friday, October 19, 2012




Renacci and Sutton: An Odd Couple




Two incumbents battle in possibly the most expensive House race in the country


by WKSU's KABIR BHATIA
This story is part of a special series.



Reporter
Kabir Bhatia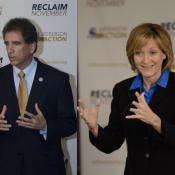 He's a freshman and the 11th wealthiest member of Congress; she's seeking a fourth term in office, which follows 7 years in the state House. Only one of them will be going back to Washington in January.
Courtesy of Robert Sustersic
Download (WKSU Only)
In The Region:
The Northeast Ohio congressional race between Jim Renacci and Betty Sutton is now the most expensive in the country. It's one of only two in the U.S. pitting incumbents of opposite parties. And it's a study in very distinct political contrasts. WKSU's Kabir Bhatia has this profile on the race and the candidates.
Asked to outline their working relationship, Betty Sutton said of Jim Renacci.

"We often travel on the same plane to and from Washington D.C. and have discussion."
And that's about it.

Democrat Sutton is a former labor lawyer and state lawmaker seeking a fourth term in Congress. But she's running largely in new territory.

GOP state lawmakers wiped out her district and merged a piece of it – including her western Summit County home -- into Renacci's. They also shifted the old 16th district north and west, making it more Republican and more of an ideological leap for Sutton -- the daughter of a boilermaker, who succeeded Sherrod Brown in the House after he went to the Senate.

Republican Jim Renacci was the first one in his family to attend college. He's an accountant who made millions owning nursing homes and car dealerships. And when the 2009 auto bailout – of which Sutton is particularly proud – shuttered his Chevy dealership, Renacci got mad. He ran for Congress in 2010 and defeated freshman Democrat John Boccieri.

Jobs, jobs, jobs
He's pushing his message of jobs, jobs and more jobs throughout the campaign, but differs sharply with his opponent on how to get there.

"Government doesn't create jobs, entrepreneurs create jobs. People in the private sector create jobs. What we need to do is bring certainty and predictability back. I was a small business owner for 28 years. I understand what it means to risk capital. When government – let's face it – if you're a small business owner today, you don't know what your taxes are going to be in January, you don't know what new regulations are coming down the road, you don't know what your health care costs are going to be."

Affordable Care
Renacci won with the help of a massive turnout by the tea party in 2010, and by attacking Boccieri for his support of the healthcare overhaul. Sutton supports the Affordable Care Act; Renacci has vowed to repeal it.

"The president said that costs would come down by $2,000 per year. But they've gone up by $2,000 per year. Now there were some good things in the bill. Pre-existing conditions; I agree with some of those things. But we could have done that in four or five pages. We don't have to throw a 2,400-page bill on the table and say 'We need to pass it to know what's in it'."

On TV
It's a battle that's played out in ads, as well as in stump speeches.

Sutton ad: "Even kids know to pay what they owe. But Jim Renacci? He tried to avoid paying taxes on nearly $14 million dollars that he made."

Renacci ad: "Betty voted to raise taxes on just about everyone. Income taxes, energy taxes, healthcare taxes -- you name it."

The barrage of negative publicity is a big part of Northeast Ohio's roughly 66,000 political ads aired so far this year. That's second only to Las Vegas and just ahead of Denver. All told, the campaigns and outside groups have spent nearly $9 million on the race.

Separate speeches
Voters have heard from the two at speeches, such as one sponsored by the Minnesota-based Jefferson Center, which selected Ohio's 16th district for its only voter forum in the country on economic issues.

Sutton: "I would cut any program that is inefficient or ineffective if somebody made the case that that was a smart decision to make. I would stop the incentives that encouraging outsourcing of jobs. I would definitely eliminate the subsidies for big oil that I don't think they need."

Renacci: "We need to make sure Medicare, Medicaid and Social Security are solvent. We need to do some reforming of those. We need to look at our costs in defense. But I gotta tell you, we can't make our military go back to 1940 standards. I don't think we cut pay. I don't think we cut equipment."

But even when Renacci and Sutton have been speaking to the same audience, they've made separate appearances.

One debate
The one exception was a debate at the City Club of Cleveland last week.

Like a mini presidential debate, Sutton used her time to explain her support for raising taxes on wealthy people.

"It is time for those at the top to pay [their] fair share. Those who have done well in America, need to do well by America. So those deep tax cuts that have existed for those at the very top of the spectrum – we can no longer afford those. So I would definitely allow those to expire."

Renacci said the expiration of Bush-era tax cuts would kill small business. And he sponsored a bill that would eliminate taxes on profits American companies make overseas if they re-invest that money in the U.S.

Sutton has pegged much of her economic platform on an anti-corrosion initiative to mobilize Northeast Ohio's coatings and metals companies into a $400 billion industry. And that's a good thing for Brenda Hamas of Lake Township.

"She was talking about wanting to invest more dollars in R&D, and I'm in R&D at Goodyear, so even with this whole corrosion here – anything we can do to bring jobs here. R&D is for the future. So it's future jobs, and anything like that I think is really exciting."

Sequestration
The candidates also diverge sharply on what to do about the fiscal cliff – the $1.2 trillion in domestic spending and defense cuts -- coming Jan. 1. Congress agreed on the cuts in August 2011 to resolve an impasse over the national debt. The idea then was to have a super-committee figure things out so the across-the-board cuts would never kick in.

Sutton voted no.

Renacci voted yes, but then supported an alternative this summer that would lessen the cuts – but only for defense.

Very different candidates
David Cohen of the University of Akron's Bliss Institute says each candidate has different advantages.

"Betty Sutton's very tenacious. She's a good debater. Very much a policy wonk, so she understands the ins and outs of policy. Many underestimate her.

"Renacci does have a deep business background. I think he makes a very effective argument saying that that background in private business has helped him in his days as a member of Congress. You know, in these days when Congress is so very unpopular – 10 percent approval rating, which is an all-time low – I think the fact that he can say that he is really not a career politician, that he has spent his career in private business, allows him to paint himself as a Washington outsider."

Some similarities
Yet Sutton and Renacci do have their similarities.

Both have voiced strong support for veterans. They agree that companies should get incentives for employee training. And each claims a record of "reaching across the aisle": he with his work on the Financial Institutions and Consumer Credit Subcommittee; she with "Cash for Clunkers."

That's one area Dan Carvill from Brimfield agrees on, too.

"I think that both of them have the desire to do it, whether or not their counterparts will allow them to do it – I mean, you have a House with 435 representatives. They have their own party leaders, and their own party line they have to follow. But the truly courageous ones will step across the aisle, they will gather consensus. They'll find a job they need to do and they'll get it done."

A close race
No official polling has been done, but the race is consistently listed as one of the nation's most-watched. The New York Times reports that voters in the new 16th gave John McCain 51 percent of the vote in 2008, and George W. Bush got 54 percent in 2004.

The new lines of the district snake from Wayne County all the way up to Lake Erie, with a strategic detour to include The Timken Company – a major GOP donor -- in Stark County.
---
---
---