Loading...



From WKYC.COM / TV 3
Get the latest school closings and delays


Funding for WKSU is made possible in part through support from the following businesses and organizations.
---
For more information on how your company or organization can support WKSU, download the WKSU Media Kit.

(WKSU Media Kit


)
---

Arts and Entertainment



Tuesday, November 27, 2012




125 years of Tuesday Musical




Akron classical music society has been going strong since 1887


by WKSU's KABIR BHATIA


Reporter
Kabir Bhatia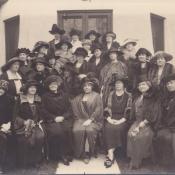 One of the earliest photos of Tuesday Musical supporters, taken in Akron in the late 1800s.
Courtesy of Tuesday Musical
Download (WKSU Only)
In The Region:
Tuesday Musical, Akron's classical music society, is in the midst of its 125th season. What began as a group for high-society ladies is now a cultural beacon in northeast Ohio. WKSU's Kabir Bhatia reports on how art and commerce have mixed in Akron for more than a century.
When Mrs. George Baker started Tuesday Musical with a dozen other ladies in Akron in 1887, the phonograph was just a 10-year-old novelty.

That meant Mrs. Baker and her band of music lovers couldn't just buy records; they literally had to invite performers into their living rooms.

"Jascha Heifetz, Yehudi Menuhin, Horowitz, Rubinstein, The Anna Pavlova Dance Troupe, Lily Pons, Madame Schumann Heink…"

That's Barbara Feld, executive director of Tuesday Musical. The pixie with a huge collection of designer spectacles has been in charge of bringing performers to Akron for 24 years. And one of her first assignments highlights why she loves the job, and why musicians love coming to Northeast Ohio.

"One of my very first encounters was with Itzhak Perlman. We were coming back from the airport, and we had just driven down West Market Street, and we were passing Swenson's. And I said, 'That is the best fast food place in the whole United States.' And Itzhak said, 'Oh my goodness! I love fast food.' So I just made a U-turn and we went back in and we ordered and he regaled us with one joke after another. That was a wonderful entrée into my job."

Itzhak Perlman may be willing to play in exchange for a Galley Boy, but that's not always enough.

Paying bills
In the early years, getting performers to Tuesday Musical was a matter of scheduling. Train travel meant that artists on tour could stop in Akron between Pittsburgh and Chicago. And Tuesday Musical gained a sterling reputation.

"We always paid our bills. They never had to come looking for us. And we always had a venue where we could present them, whether that was the old Akron Armory, or the Akron Civic Theater, or today's E.J. Thomas Hall."

E.J. Thomas will host Yo-Yo Ma – arguably the most famous classical performer of the past 40 years – again in March, and renowned pianist Emanuel Ax kicked off this 125th season.

Yesterday's great pianists, and tomorrow's
Ax says he's humbled by the musical lineage at Tuesday Musical.

"And I've been lucky in my lifetime to have heard a lot of the great pianists whom I've always tried to, in a way, imitate and certainly emulate. And they've all been here. You name it. They've had Rachmaninoff, Horowitz, Rubinstein, Serkin. All the great ones. All the people I heard at Carnegie Hall have been here. And we hope that the future will keep going that way. This whole area, it's a hotbed of musical activity."

Ax is referring to the orchestras in the area, and to the music schools. Students from Kent, Akron, Oberlin, Baldwin-Wallace and the Cleveland Institute of Music regularly fill Tuesday Musical performances – for free. It's a program that's been around since the 1980s, and it's another reason for the group's longevity.

Akron lovefest
At this season's premiere, music lovers could hardly contain themselves. That enthusiasm for music is matched by Feld's enthusiasm for Akron. She says a big reason Tuesday Musical has prospered is the people of Northeast Ohio.

"For 125 years, these people have supported this small organization. And without that, we would have been long gone. And I think it just reflects back on Akron. There's this sense of family, of commitment. I just can't say enough about this community."

One of Feld's favorite pieces of Tuesday Musical memorabilia is a group photo from around 1890. Two-dozen well-to-do ladies posed in their finest.

"And they're all wearing hats. And somebody asked me the other day, 'What do you think those founding members would do today if they knew that it had survived 125 years?' What I would like to see them doing is taking off those hats and throwing them in the air and saying 'Yes, we started it!'"
---
---