Loading...


Education



Friday, October 19, 2012




May 4 Visitors Center previews Saturday




Museum features context of the times and plus reactions to the shooting of 13 students at Kent State in 1970


by WKSU's KABIR BHATIA


Reporter
Kabir Bhatia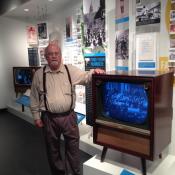 Jerry Lewis was standing right behind one of the students killed on May 4, 1970 at Kent State.
Courtesy of Carl Carlson
Download (WKSU Only)
In The Region:
Kent State is expanding the memorial for 13 students shot a generation ago during student protests against the Vietnam War. WKSU's Kabir Bhatia reports on one of the seminal events of a turbulent time.
The $1.1 million May 4 Visitor's Center will hold a preview Saturday, ahead of the official opening on Monday in Taylor Hall, the former journalism building adjacent to the field where Ohio National guardsmen opened fire on students in 1970.

Jerry Lewis is an emeritus professor of sociology. He was a faculty marshal at the time, and applauds the new center's layout, with its mix of multimedia and artifacts from the 1960s.

"I like to think of the visitor's center as a term paper. This is the opening of the term paper, which is talking about the '60s context. Then the actual event, which would be the body of the term paper. Then summary and conclusions in the third gallery."

The shootings have been cited as a turning point in public consciousness about the Vietnam War. Allison Krause, Jeffrey Miller, Sandra Scheuer and William Schroeder were killed, and 9 others were wounded during protests against President Nixon's expansion of the war into Cambodia. In 2010, the site was added to the National Register of Historic Places, and a guided walking tour is available at the new visitor's center.
---
---
---
Stories with Recent Comments