Loading...


Arts and Entertainment



Tuesday, October 30, 2012




Spooky Ohio urban legends in new book




Akron's James Renner brings together 13 strange tales in "It Came From Ohio"


by WKSU's KABIR BHATIA


Reporter
Kabir Bhatia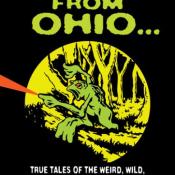 "It Came From Ohio" delves deeper into some of the tall tales author James Renner heard while writing for newspapers for years.
Courtesy of Gray & Co.
Download (WKSU Only)
In The Region:
Akron author James Renner has a new book out profiling 13 of Northeast Ohio's spookiest urban legends. WKSU's Kabir Bhatia spoke with Renner about "It Came From Ohio."

He's profiled the Amy Mihaljevic murder case. He's tracked down reclusive "Calvin & Hobbes" author Bill Watterson. And he's spent a lot of time on the crime beat for "Scene Magazine" and "The Free Times." Now, James Renner has collected and investigated some of the weird tales he heard around the newsroom into a spooky Halloween read.

The stories include the sea serpent supposedly hiding in Lake Erie a century ago, the Big Foot sightings of the 1980s, and the case of the deputy sheriff who chased a flying saucer into Pennsylvania in 1966. The aftermath of that story still gives Renner chills.

Renner's work channels his two biggest influences, Stephens King and Spielberg, providing a horrific narrative that he tries to enrich with visual detail. He's mum on the topic of his next novel, due out next year, and is also working on a screenplay.
---
---
---
Stories with Recent Comments