Loading...


Ohio



Thursday, October 25, 2012




UPDATED: Diebold puts $100 million headquarters on ice; layoffs are coming




Ohio had offered more than $50 million in incentives to build the HQ here


by WKSU's M.L. SCHULTZE


Web Editor
M.L. Schultze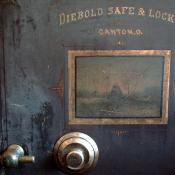 Diebold has been in NE Ohio for more than 100 years, and the new HQ was seen as a way to cement that.
Download (WKSU Only)
In The Region:
Diebold is indefinitely suspending plans to build its $100 million global headquarters in Green. It's also laying off 500 people, primarily in North America and Brazil. The announcement followed the company's third-quarter statement, which showed a 58 percent drop in earnings. Diebold announced 18 months ago that it was going to build the new headquarters near its current facility east of Interstate 77 between Akron and Canton. It had planned to consolidate about 1,500 employees now working in five facilities. At the time, Gov. Kasich announced the state was offering a $56 million package of tax credits, grants and loans. The city of Green also agreed to street and other improvements for the project. Those plans were put on hold when Diebold officials gave the city a heads up yesterday. In announcing its third-quarter earnings, Diebold said its profits fell significantly in Brazil, where it has faced "delays" in expanding its ATM business. Diebold spokesman Mike Jacobsen said this morning that fewer than 75 of the layoffs will be in Northeast Ohio. In announcing the suspension, Diebold CEO Tom Swidarski said the project "is not economically feasible" for now.
---
---
---
Stories with Recent Comments