Loading...


Government and Politics



Thursday, October 25, 2012




Former Cuyahoga Auditor Russo has just a few more weeks of freedom




Judge tells him to get ready for prison; he apologizes for massive corruption


by WKSU's MARK URYCKI


Reporter
Mark Urycki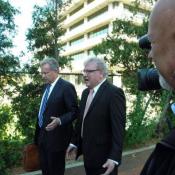 Frank Russo, right, with his attorney Roger Synenberg apologizes to Cuyahoga County and says he wants to do good.
Download (WKSU Only)
In The Region:
Former Cuyahoga County Auditor Frank Russo will be celebrating Christmas in federal prison, and maybe Thanksgiving, too. Federal Judge Sara Lioi denied a continuance of his bond this morning and ordered him to report for transfer to prison. Russo has remained free for more than two years after pleading guilty to 21 corruption-related charges and agreeing to testify against others. Outside court in Akron, Russo apologized to his family and "each and every resident of Cuyahoga County."
"I regret what I've done. I'm very truly sorry for what I've done with my heart. But if you look back, there's nothing I can do about it. What I can do is make a difference in the future. I'm going to take positive steps forward to try to touch people's lives to make life better."
It may take two-to-six weeks before officials are ready to transfer Russo to the federal prison in Loretto, Pa. Russo has been sentenced to nearly 22 years in prison, but has asked for a reduction because he testified against others. Judge Lioi will wait until after Russo testifies in the corruption trial of Anthony alabrese III in February before she hands down a final sentence.
---
---
---
Stories with Recent Comments