Chuck Berry was one of the first artists inducted into the rock hall in 1986, and is hailed as an architect of rock and roll.
"OK, first of all he has a very friendly sounding name. Second, he's charismatic," says Ernie Isley of the Isley Brothers.
"You know, if he says 'just let me hear some of that rock and roll music' that was when it was virtually brand new, and he's playing a guitar. A lot of people if they're into music, at some point they're going to pick up a guitar. And it was fun, and he demonstrated it as fun. In many ways he was the only one. In many ways, in terms of the history of rock and roll, he's at the center of it."
Ernie Isley, a Rock and Roll Hall of Famer himself, will be among those performing on Saturday night.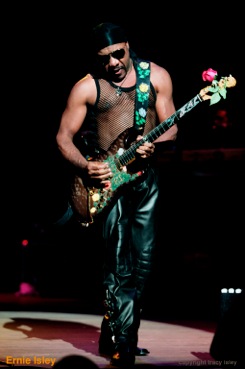 "I knew about Chuck Berry because of my family and my older brothers, you know, of course they had the opportunity to work together. Everybody knows 'Go, Johnny, Go, Go' – you know the chorus of that song. I think when anybody picks up an electric guitar, at some point they are going to play the opening licks to Johnny B. Goode. And if there's a kid that's 14 or 15 years old and he's in a music store trying to impress the girls, if he picks up a guitar and starts playing Johnny B. Goode, they're going to turn around and look in his direction."
"Chuck Berry really is, wow, a pioneer. A pioneer in terms of his musicianship and his songwriting ability. His songs express the hopes and feelings of adolescent teen years, which is very important when you're coming of age. Johnny B. Goode, Sweet Little Sixteen, No Particular Place to Go. His influence is perennial. Obviously it's going to be there for as long as people play electric guitar."
Visual rock
Isley credits with Berry with not only helping to create the musical language of rock and roll, but also showing what it should look like.
"Anybody that plays electric guitar must… it's almost like there is an invisible presence that is Chuck Berry. And you know, the guitar is a great looking prop. Even if you don't play it, if you strap it on – you're subject to look cool. The fact that Chuck Berry could play, he could sing, he could play and sing at the same time and he's actually writing the songs? That's like showing everybody else how to do it.
"And then the fact that he would dance, he would jump around, he would bend his knees, he'd do the splits. He'd do all of these things with the guitar that made it look like a toy or a prop. And of course nobody else was jumping around or moving like that with a guitar. Nobody else. Elvis jumped around in another kind of way. Like I said he's invisibly there when anybody plays electric guitar, and they start bending their knees or, you know, stretching or any of that. He did all that."
A diverse line-up of artists including Joe Bonamassa, Rick Derringer, Merle Haggard, Vernon Reid, David Johansen and others will join Isley in paying tribute to Chuck Berry Saturday night at the State Theatre. Isley is happy that that rock hall is helping us to remember those that laid the foundation.
"I'm really looking forward to Saturday night, because sometimes in today's world people don't concern themselves with history so much. Certainly Chuck Berry is a marvelous starting point. It's very well deserved, this thing coming up Saturday with Mr. Chuck Berry at the Rock and Roll Hall of Fame."
He just turned 86 years old, but Chuck Berry will be there Saturday night, and he'll be playing his guitar just like a ringing a bell.


Official Chuck Berry website
Rock and Roll Hall of Fame's American Music Masters Series
http://rockhall.com/events/american-music-masters
Chuck Berry on Facebook
www.facebook.com/ChuckBerry?ref=ts&fref=ts
Chuck Berry in Film
Hail! Hail! Rock 'n' Roll