Loading...


Economy and Business



Friday, October 26, 2012




What's next for Diebold?




Green headquarters project is off and third quarter numbers are down. But what does all that mean, and where is one of the region's leading corporations headed?


by WKSU's TIM RUDELL


Reporter
Tim Rudell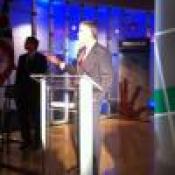 Diebold CEO Tom Swidarski in 2011 announcing plans for a new corporate headquarters, which would remain in Northeast Ohio
Courtesy of Rudell
Download (WKSU Only)
In The Region:
Diebold, long a mainstay of Northeast Ohio manufacturing, raised questions this week when it announced all at once that it had a bad quarter, will lay off workers, AND is dropping plans to build a 100-million dollar global headquarters in Green. WKSU's Tim Rudell talked with an international business analyst who follows the 153-year-old company about its fate and future.
---
Related WKSU Stories

UPDATED: Diebold puts $100 million headquarters on ice; layoffs are coming
Thursday, October 25, 2012

Diebold suspends construction of new headquarters
Thursday, October 25, 2012

Northeast Ohio businesses making record profits
Wednesday, April 25, 2012

Diebold shifts 200 jobs to India
Thursday, April 12, 2012

A location near Akron-Canton Airport will be the new corporate hub for Diebold
Thursday, January 12, 2012

Governor Kasich touts business climate and State Issue 2
Tuesday, October 4, 2011

Diebold stays in northeast Ohio
Tuesday, April 12, 2011

A location near Akron-Canton Airport will be the new corporate hub for Diebold
Thursday, January 12, 2012
---
---
---
Stories with Recent Comments