Loading...


Economy and Business



Friday, October 26, 2012




U.S. auto industry comeback keeps Goodyear on track




Company selling more tires for new cars




by WKSU's GRANT ENGLE


Reporter
Grant Engle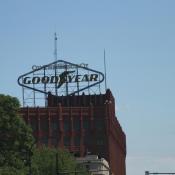 Goodyear Tire and Rubber Company has been based in Akron since 1898
Courtesy of Chris Wallis
Download (WKSU Only)
In The Region:
Goodyear lost sales and profits in the third quarter of 2012 compared to last year. But, the earnings report released Friday isn't all bad for the Akron-based company. Goodyear is still ahead of schedule to meet its income target of $1.6 billion next year. A spokesman at Goodyear said the company's numbers are down primarily because of the struggling auto industry in Europe.

Ned Hill is the dean of the Levin College of Urban Affairs at Cleveland State University. He says Goodyear has managed to stay on track to meet its goals because of the recovery of the U.S. auto industry.
"In North America, particularly the U.S. market, the auto industry is coming back fairly strongly, but they're being buffeted by Europe – that is in a recession. The part of Europe's economy that is particularly hard hit is the automotive sector."
Hill says another indicator that the auto industry is trending upward in the U.S. is that Goodyear's new equipment volume increased – in part due to car makers equipping their new cars with Goodyear tires.
---
---
---
Stories with Recent Comments