Loading...



From WKYC.COM / TV 3
Get the latest school closings and delays


Funding for WKSU is made possible in part through support from the following businesses and organizations.
---
For more information on how your company or organization can support WKSU, download the WKSU Media Kit.

(WKSU Media Kit


)
---




Tuesday, October 30, 2012




Sandy wreaks havoc on morning commute




Hundreds of schools closed, many roads closed, over 250,000 power outages




by WKSU's JASEN SOKOL



Reporter
Jasen Sokol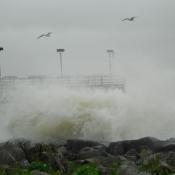 Waves crash onto the rocks at Edgewater Park Monday as Superstorm Sandy arrives in Cleveland.
Courtesy of Brian Bull
Download (WKSU Only)
Superstorm Sandy slammed Northeast Ohio overnight, and its effects are still being felt this morning.

Hundreds of schools across the region are closed. Many of them made the decision to close last night. Day classes are cancelled at Kent State University's Kent Campus. All classes at Baldwin Wallace University and BW East are cancelled, and John Carroll University will open at 10 a.m.

Interstate 90 was closed east of Downtown Cleveland earlier this morning because of high waves coming off Lake Erie onto the highway. I-90 westbound is still shut down between Eddy Rd. and E. 55th St. ODOT reports all traffic lights along the posted detour are without power and should be treated as four-way stops

FirstEnergy is reporting over 244,000 power outages across Ohio. American Electric Power Ohio reports 7,700 outages in its service area, which includes Stark County and areas of Central Ohio. Outages can be reported to FirstEnergy by calling 1-888-LIGHTSS and to AEP by calling 1-800-672-2231.

Flights in and out of Cleveland Hopkins Airport remain cancelled until 3 p.m. today. Travellers should contact their airlines for more information and to reschedule their travel. Akron-Canton Airport remains open, but many flights to and from the East Coast are cancelled.

For continuous updates, follow us on Twitter @WKSU
---
---