We've all heard about the high-tech data companies assembling voter information, the detailed lists of registered voters embedded in the campaigns' smart phones.
But most of the get-out-the-vote effort comes down to your friends and neighbors who volunteer.
Polly Germer manages a Democratic call center in Kent. It's just an old house full this night of women who are calling other women in Portage County, asking them to vote and vote for Democrats.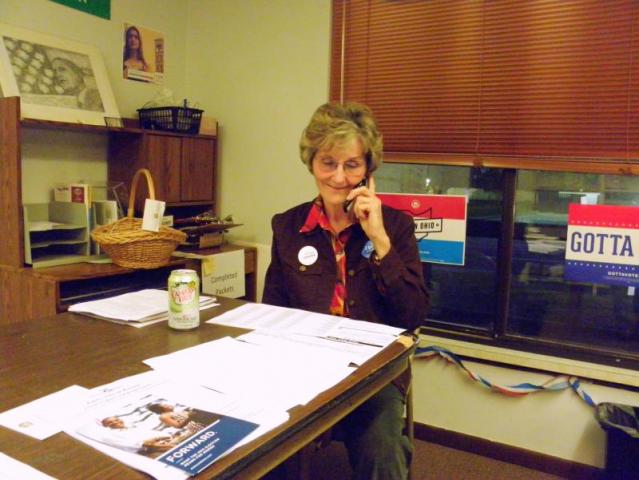 " I certainly respect their right to choose whomever they would like. If they have questions as an undecided voter I can give them a modicum of information that might push them over. That's certainly important to me but I really think that voting early, having your vote count, voting in person rather than by absentee ballot are the kinds of things that will be helpful in this election. Ohio is very close; every vote will count and we want their vote."
Germer helps her volunteers with a list of talking points, in case a caller wants to ask about policies. But the party also tends to target different groups on different nights.
"For example tonight we're doing women to women… on Friday nights we do seniors to seniors and obviously we have seniors who are calling so we're real familiar with what their issues are. And we have a crib sheet, cliff notes."
A few miles away in Stow, volunteer Tom Perry is greeting someone with yard signs at a Republican Victory center.
Perry will help a group of volunteers later in the day make calls from a bank of phones set up on long tables. The number to call pops up on the phone automatically from the party's files on registered voters.
Perry isn't sure who is getting calls but says his volunteers aren't trying to change minds, just to help people to vote.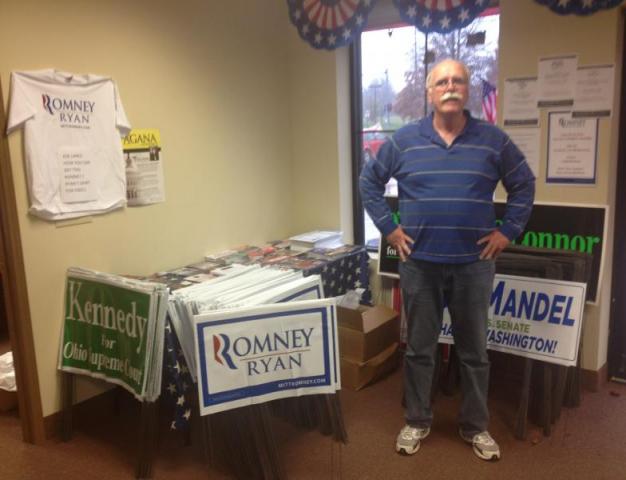 "Lot of informative stuff. How to send back your absentee ballot. Don't forget to put postage on it. It's $1.30 for your postage."

And it's not all phone calling.

"Yes, a lot of door-to-door. We just had people come in from out of state so that's as big as phone calling also." The rain didn't stop them. The campaign handed out a tiny pack with a folded up plasti8c poncho for the canvassers.

Democrats door to door

Montessori school teacher Iris Dettweiler of Brimfield has been knocking on doors for Democrats since 1972, when the late George McGovern was running against Richard Nixon.

"I just smile and introduce myself and tell them I'm from Brimfield so they know I'm local.

Do you get doors slammed in your face?

"No never. Virtually never."

Dettweiler once spent as long as 35 minutes talking to one potential voter. She likes to steer people toward speeches on topics that might interest them, because it's a more relaxing way to consider an issue.

"I usually ask whether they liked President Clinton and I haven't come across anyone yet who didn't like him. So then I say he gave a really good speech at the Democratic National Convention and it went over practically any issue you might be wondering about."

Over at the Republican call center, Tom Perry is gearing up for the final week. His wife volunteers there, too. He believes everyone who's going to vote has already made up their mind, saying even staunch Republicans are hanging up on them now.

"I think people have just about had it with the calls. It's just like 'Oh my gosh if this phone rings one more time.'"

Perry says the campaigns do know not to call on a Sunday, though this Sunday will be the only one open for early voting at county boards of elections