Loading...


Government and Politics




Friday, November 2, 2012




Ann Romney wraps up in Strongsville




Last solo stop for Mrs. Mitt Romney featured anecdotes about family


by WKSU's KABIR BHATIA
This story is part of a special series.



Reporter
Kabir Bhatia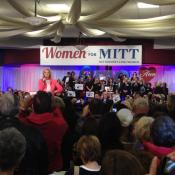 Ann Romney made her final solo stop of the campaign in Strongsville.
Courtesy of Carl Carlson
Download (WKSU Only)
In The Region:
The surrogate for another presidential hopeful was in Strongsville Thursday, with a message more about character than jobs. WKSU's Kabir Bhatia reports.
Ann Romney told about 600 people that this was her last campaign appearance without her husband, Mitt. But she had plenty of company at the Strongsville Community Center: including John McCain's wife, Cindy, and former Ohio Sen. George Voinovich, who says Romney has qualities President Obama lacks.

"Governors understand that you gotta work with people. And you're not gonna get everything that you want. And sometimes you gotta give on things if you want to get something done. And I don't think the president understands that in many instances, because I've worked with him on many of those."

Voinovich criticized the government stimulus plan and the healthcare overhaul, but Ann Romney's speech was more about her husband and family than the issues of the day.

"I have seen him as a husband. As a father. As a governor. Running the Olympics. As a business guy. Whatever job he has, he does with all of his heart, with integrity and character and devotion. And I know that's what he'll do as president of the United States."

Romney also remembered back to 2008, after John McCain clinched the Republican nomination.

"I made a video, and I looked into the camera, and I said, 'Sweetheart, I am never doing this again.' And I showed to him and he laughed, and I said, 'Why are you laughing?' And he said, 'Because you say that after every pregnancy.'"

Ann Romney's focus on family was a welcome respite for Mary Kate Glowe from Cleveland.

"I thought she did the job that she was called out to do in setting the goals out for five days before the vote. So she's definitely supporting her husband in the right way. You know, I think the issues are talked about so much, that it's nice to hear the other side of things. And that's where the balance comes … with any of the presidential wives."

On the other hand, Catherine Mihlfeith, a physician's assistant from Parma, wanted to hear about one thing.

"She gave the example of people gradating and then not being able to find a job. I graduated 2 1/2 years ago; I finally got a job a year ago. And I had to move out-of-state to get a job. I went to an Ivy League school [and] have a great degree. And it took me this long to get a job, and I'm getting paid far less than I should. But that's how the economy is now, and that's how it's going to stay if we stick with Obama."

Ann Romney was also joined by Lt. Gov. Mary Taylor at the event, which was billed as a Women's Victory Rally to get out the vote. Romney closed her speech reminding the crowd to vote, before saying the last six years of cross-country campaigning has been a blessing.
---
---
---