Loading...


Government and Politics




Monday, November 5, 2012




Religion and politics are definitely mixing in Ohio this year




Religious leaders attempt to answer the question, "How Does God Want Me Vote?"


by WKSU's KABIR BHATIA
This story is part of a special series.



Reporter
Kabir Bhatia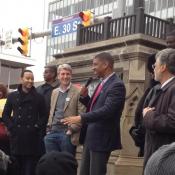 The Obama campaign attracted voters with both hot dogs and (left to right) John Legend, Minneapolis Mayor R.T. Rybak, former Cleveland Cavalier, and now Sacramento Mayor, Kevin Johnson, and Cleveland Mayor Frank Jackson
Courtesy of Carl Carlson
Download (WKSU Only)
In The Region:
Many Christians are asking themselves "How Does God Want Me to Vote?" WKSU's Kabir Bhatia reports that Christian leaders are trying to answer that question, and they don't all come up with the same answer.
They called it "Souls to the Polls" -- churches in the urban cores of Cleveland, Akron, Canton and other Ohio cities galvanizing parishioners to take advantage of the only early-voting Sunday this election season.

At the corner of Euclid and East 30th Street in Cleveland, a line of more than 2500 voters snaked from the Cuyahoga County Board of Elections for at least four city blocks. Catty corner, on the steps of Euclid Avenue Congregational Church, R&B singer John Legend joined Democratic public officials from around the county on a makeshift stage. Cleveland Congresswoman Marcia Fudge.

"There is no faith that I know that does not talk to you about how it is our responsibility to take care of those who are less fortunate than we. That's what voting does. It really does that. And it does it from a point where people who are in need are helped by who we put in office. So there's a huge social justice factor in religion, no matter your religion."

Religion and politics
Sunday's turnout was one of the most visible signs of the mix of religion and politics during this presidential campaign. But it was far from the only one. A key part of the Republican base -- fundamentalist Christians -- had to overcome uneasiness with Mitt Romney's Mormonism. Gay marriage played into the presidential and Ohio's U.S. Senate races. And abortion and birth control surged into the spotlight this fall in Ohio and the rest of the country.

A line in the sand
Defining the less fortunate can be tricky. It can mean homeless people, or it can mean unborn children. And that seemed to be a line in the sand for people of faith like Rhonda Mangham from Cleveland.

"If I were raped and got pregnant, would I want to carry the baby of my rapist? No I wouldn't. As things go on, maybe I think about it, pray about it, and see how God moves me. But, no, I know what's best for me, my economic circumstances -- it takes money to raise children -- and it just wouldn't be a good thing for me."


Serious about voting
The Rev. Laurel Bobb leads a small, close-knit congregation at Resurrection Evangelical Lutheran Church in Stow. They meet in the city's community center, although a stately-yet-abandoned Baptist church sits tantalizingly across the parking lot. Bobb is pretty sure most all of her flock has voted, or will on Tuesday.

"I think that as the advertisements say, there are two ways that are being offered. And they are both very different. Very different views of what America can be."

And she estimates that most of her parishioners, like Bob Gsellman, lean Republican and take voting very seriously.

"I like voting absentee ballot 'cause my family gather around and we check the internet, we check all the things that come by mail, and we can do it in a very calm and slow process and make our decisions."

Gsellman's friend, Barney Rowe, goes a step further.

"We spent a lot of time praying about the election. And we are guided by God as to who we should vote for. And based on our beliefs, then we need to find each candidate and see where they stand and see which one goes with our beliefs."

Interfaith forum
The question of how God and voting mix was the topic of an interfaith summit at First Congregational Church in Akron last month. The Rev. Sandra Selby from the Furnace Street Mission, which runs social service programs on Akron's east side, summed up the thoughts of her Catholic, Muslim and Hindu counterparts on the panel: that social justice is driving how she votes.

"God created us to live in community with responsibility to God, ourselves and one another. We are not in this for ourselves. But for one another. That's what my faith community, and my faith, have taught me over the years. I'll be voting for those candidates who have a passion and commitment for pursuing a just community that promotes the well-being of all. And if I have to pay higher taxes for that to occur, so be it."

University of Akron political scientist John Green has studied the nexus of religion and American politics for decades and moderated the panel discussion on faith and voting He suggested a personal, yet global, approach.

"I think you should bring your deepest values, whatever they may be, to bear on your political choices. You need to test those values against the views of other people, especially those that you disagree with most. And you need to ask yourself the following question: how will my choice contribute to the common good?'"

Some 7.7 million Americans will be answering that question by the time the polls close at 7:30 tomorrow night.
---
---
---