QB:Catherine St. John of the Western Reserve School of Cooking is cutting up some Brie cheese.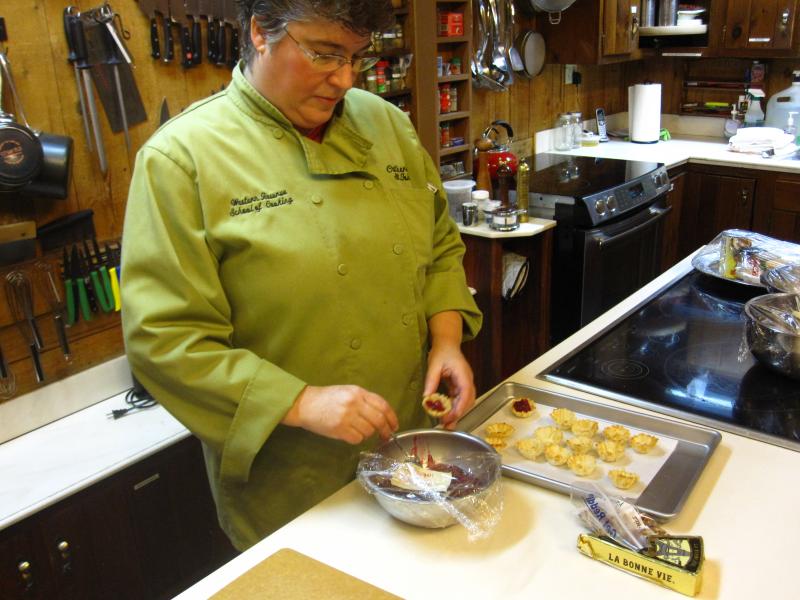 CS:We are going to take some Athens filo cups, the little cups that are already pre-baked, and we're taking some of the leftover, if you have it, cranberry sauce, and we're just going to make like a little appetizer out of it and this could actually be done as an appetizer or it could be served as a little dessert. And we're taking the cranberry sauce, putting it in the bottom of the filo cup, putting a piece of brie on top. And then we're going to top it off with some pecans and throw it in the oven until that brie gets kind of melty, pecan toasts a little bit and then you have a nice little cheese and cranberry bite. And we'll get some pecans here and just kind of dot them right on top and then throw these in the oven 10-12 minutes just until the cheese is melted and it's heated through.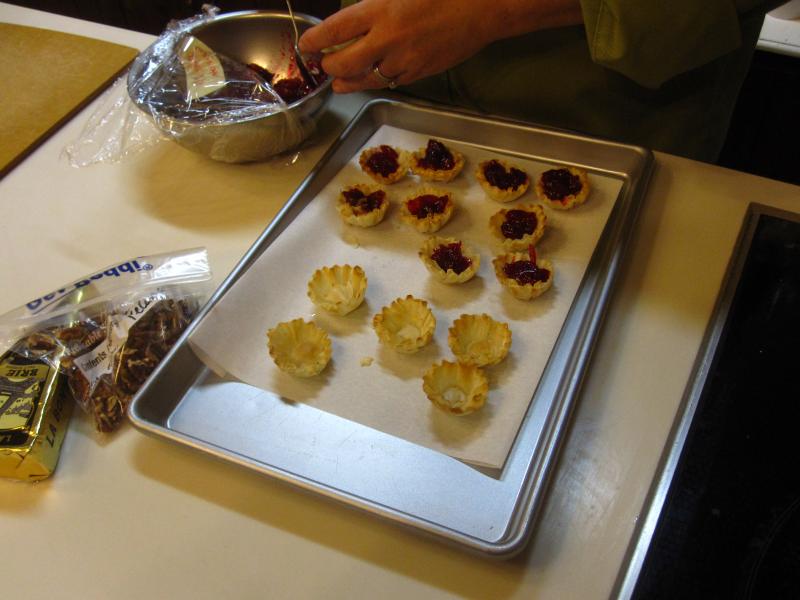 QB:Now is this something you want to put in the oven just when the guests arrive?
CS:Yeah. It doesn't take long. You can have them set up ahead of time. So we're going to throw these in the oven. And I have it at about 350.
QB:What are you unwrapping there?
CS:We're going to take the leftover turkey. I'm partial to the thigh so that's what I happen to have here, and we're going to make a Thai coconut curry.
QB:Something a bit more exotic than your traditional Thanksgiving fare. We've already had all of that.
CS:So this is just a way of re-inventing. I'm going to cut up an onion here. And you can buy Thai curry paste in the grocery store. So we have some onion here. Big skillet to do this in. So we're going to pre-heat that and then we're going to put this on a bed of your leftover mashed potatoes.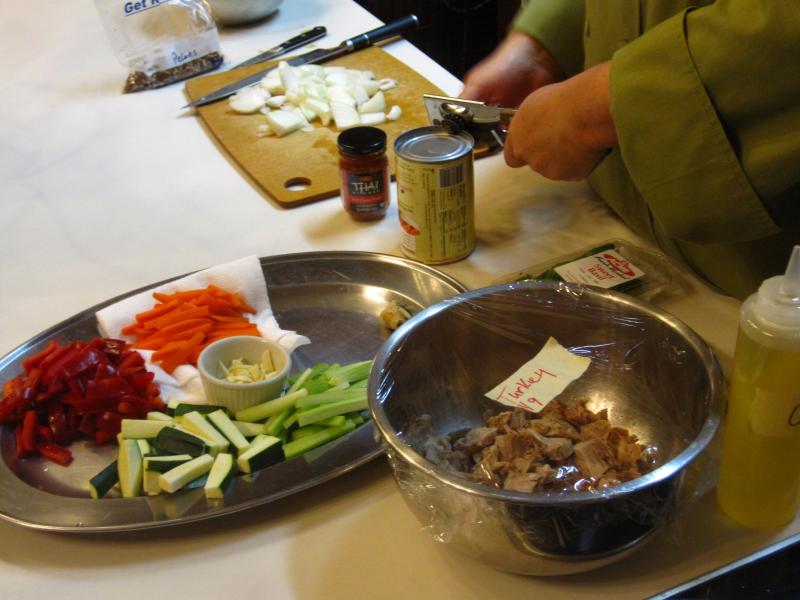 So the main ingredients for our vegetables here, we're going to sauté some onions, we're going to put in some garlic, some fresh ginger. We're going to put in some of our Thai curry paste. That's going to really get the aromas going. I got some celery, carrots, some zucchini and red pepper, really whatever you have laying around. I used some canola oil and I probably used about a tablespoon. And the reason I use canola over an olive oil is because I can get it to a much higher heat. Sprinkle a little salt on there just to kind of help open up the onion, get them a little sweeter. It sort of draws their natural juices out. Sliced garlic. And we're going to put in some fresh ginger. So this is going to start to get really aromatic with the garlic, the ginger. Then we'll add in some of that curry paste.
And I would start with just a couple of teaspoons. You want to watch for your hotspots, make sure you're not getting too browned. And then we're going to pour on our coconut milk. And I probably should have put my celery in before that just to get that going. Carrots I blanched ahead of time in some boiling salted water just to get them cooked down a little bit. It's a beautiful creamy color now. It kind of takes on a little reddish tint from the red curry. I'm going to add a little bit of soy sauce. I have some zucchini going in and some red pepper. And then I'm going to add in our turkey. I like the dark meat but you can use whatever you have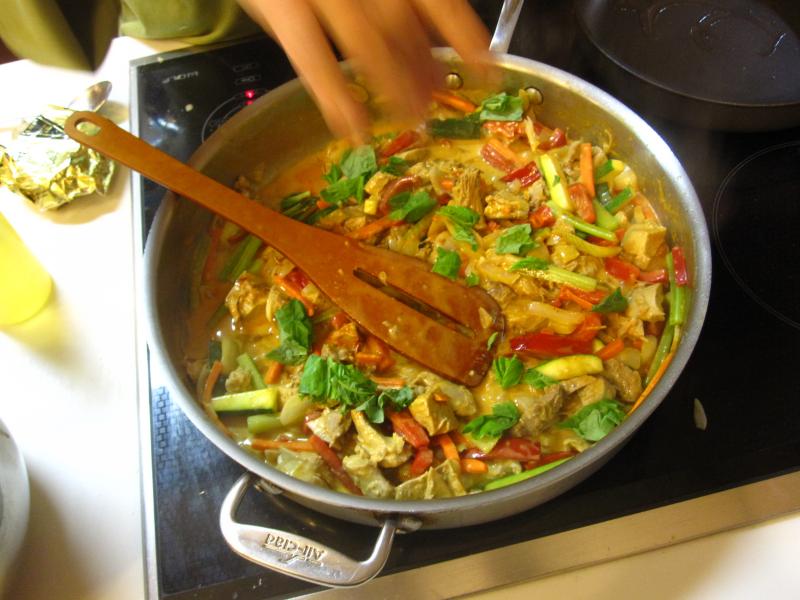 leftover.
QB:The thigh meat is going to be moister though.
CS:Yeah. It is moister. It has more flavor to it.
QB:I can see somebody at the Thanksgiving table saying, 'Now, don't eat that thigh. I need it for the leftovers.'
CS:Exactly. Leg meat will work well, too. You can finish this off with some cilantro or today I'm going to use a little bit of basil right at the end. So we just want that to cook a little bit. In the meantime we're going to heat up some of our leftover mashed potatoes. I'm just doing it like a pancake, get a little browning on it, use it as the bed for our curry. I got my mashed potato down. So there is the coconut curry over the mashed potato.
QB:Is this typical of what you would do with your leftovers?
CS: Yeah sometimes, but I've got a lot of family who ends up taking quite a bit home with them.
QB:And maybe there's not a lot left over anyhow.
CS:Exactly. So maybe the first day afterwards, we'll do sandwiches or we'll just re-heat on a plate, but once I get into two days after, yeah, I would probably re-invent it . And you can do a turkey chili, turkey soup, there's so many traditional things you can do with it. We were just trying to go outside the box a little bit.
Cranberry Brie Cups
Makes 30
2 boxes Athens phyllo cups (15 count boxes)
1 cup cranberry sauce
12 oz. brie cheese
30 pieces pecans
Preheat oven to 375 degrees. Place the phyllo shells on a baking tray. In the bottom of each phyllo cup
place a small amount of cranberry sauce. Cut brie into 30 small pieces and place one on top of the cranberry sauce. Top each with a pecan piece. Place in the oven and bake for 10-12 minutes or until the cheese has melted.
Turkey and Vegetable Coconut Curry
Serves 6-8 people
2 Tbs. canola oil
1 onion, chopped
3-4 cloves garlic, sliced thin
1 Tbs. fresh ginger, grated
1-2 Tbs. Red Thai Curry Paste
2 can coconut milk
1 red pepper, chopped
2 carrots, chopped
1 zucchini, chopped
3-4 cups leftover turkey meat, cubed
soy sauce, to taste
2-3 Tbs. fresh cilantro, mint or basil (optional)
Heat a large skillet on high. Add the oil and fry the onion for a minute or two. Follow with the garlic and ginger. Turn the heat down and add the ginger and curry paste. Stir constantly to avoid burning. Pour in the coconut milk and stir to combine well. Turn the heat down to just a simmer. Add the vegetables and continue to cook on low for another 10-15 minutes.
Add the turkey meat and simmer for another 10 minutes or until the sauce begin to thicken slightly. Season with soy sauce and stir in some fresh cilantro, mint or basil. At this point adjust the heat with more curry paste if desired.
Serve over rice or over mashed potatoes.
Catherine St. John
Western Reserve School of Cooking
140 N. Main St. Hudson, Ohio 44236
#330/650-1665