GOP lawmakers take aim at Planned Parenthood
Crowds are gathing at the Statehouse where Ohio lawmakers are expected to try again today to defund Planned Parenthood.
If they do so, it will be over the strong objections of Cleveland's Democratic state Sen. Nina Turner, but with the strong support of Hudson Republican Rep. Kristina Roegner.
The House Health and Aging Committee has scheduled a vote on the bill that would put Planned Parenthood at the bottom of the priority list for funding. That would eliminate about $1.7 million that the agency gets for birth control and preventive health care.
Planned Parenthood says it provides cancer screenings, birth control and STD prevention to about 100,000 women in Ohio. It cannot use the funding for abortions.
House Republicans tried to cut off the funding in April as part of Gov. John Kasich's budget review. Ohio Right to Life says other agencies – with no connection to abortion – can provide the same services.
Sen. Turner calls the bill part of the continued attack on women, and Democrats say Republicans are failing to heed the message of last week's election.
Kasich advisor raises spector of consolidation
Gov. John Kasich is underscoring his message to schools and local governments to find more ways to share costs.
At the Ohio School Boards Association's annual conference this week in Columbus, the point man for the governor on collaboration talked about the possibility of forced consolidation. Randy Cole noted that the state has 614 school districts and nearly 4,000 city, township, village, county and other political subdivisions. For the schools, he suggested shared transportation, technology and purchasing.
Kasich released a study earlier this year that estimated 51 collaborations among schools and local government had saved nearly a billion dollars.
Brown pushes political money changes
Ohio's U.S. Sen. Sherrod Brown is calling on the IRS to investigate "social welfare" nonprofits that weighed in heavily in this year's election.
Brown was targeted by some $40 million from super PACS and related nonprofits trying to unseat him.
In a conference call today, he's calling for the IRS investigation and for passage of a campaign finance bill to overturn much of the Supreme Court's "Citizens United" decision. That decision opened up unlimited corporate and union spending on political campaigns.
Brown also wants to require that shareholders of corporations approve the corporations' political expenditures.

Husted appeals federal provisional ballot order
Ohio Secretary of State Jon Husted has appealed a federal judge's order Tuesday that accused him of breaking Ohio law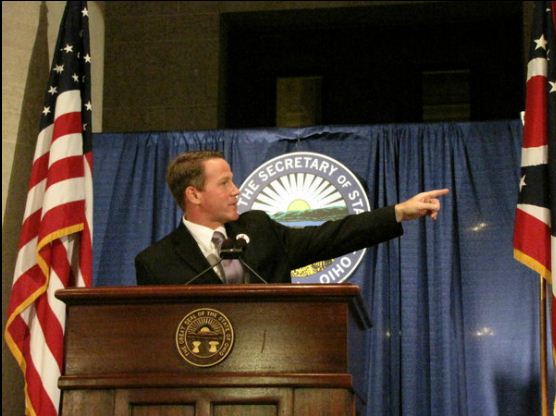 and sneaking in a new requirement for counting provisional ballots. The appeal comes just four days before county boards of elections are supposed to begin counting more than 200,000 of those ballots.
Provisional ballots are usually cast when voters haven't updated their addresses or go to the wrong polling place to vote.
On the Friday night before the election, Husted said voters – not poll workers -- are responsible for writing identifying information on the provisional ballot envelope, and if they made mistakes, the ballots must be thrown out.
U.S. District Judge Algenon Marbley said Husted's rule shifted poll worker duties to voters, was "surreptitious" and "casts serious doubt on his protestations of good faith." He ordered Husted to come up with a new order by this Friday. Husted immediately filed his appeal with the 6th Circuit Court of Appeals, which has split on other provisional ballot rulings.