Loading...


Sports



Thursday, November 22, 2012




Kent football vs. Ohio U. begins at 11 a.m.




Bragging rights ride on the game, and both teams are in unfamiliar territory


by WKSU's M.L. SCHULTZE


Web Editor
M.L. Schultze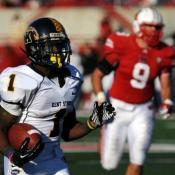 Kent's star speedster Dri Archer leads the nation in kick-return average and holds Kent's single-season record for touchdowns.
Courtesy of KENT STATE UNIVERSITY
Download (WKSU Only)
In The Region:
Kent State – ranked 23rd in both the BCS and AP national polls – will play its final regular game of the season against Ohio University tomorrow, then heads to the Mid America Conference championship game in Detroit next Friday. This is the first time in 40 years that Kent has earned even a piece of the Mid-America Conference title. The team's on a nine-game winning streak since dropping the opening game of the season, and junior Dri Archer is leading the nation in kick- return average. Ohio University has some bragging rights of its own. For a week this season, Ohio was also ranked in the top 25, and it comes into the game with an 8-3 record. But Ohio is 0-15 all-time against nationally-ranked opponents. Meanwhile, that other Ohio school – Ohio State – is undefeated and preparing for its game Saturday against Michigan. It has no hope for postseason play, though – a punishment for NCAA violations under former head coach Jim Tressel.
---
---
---
Stories with Recent Comments